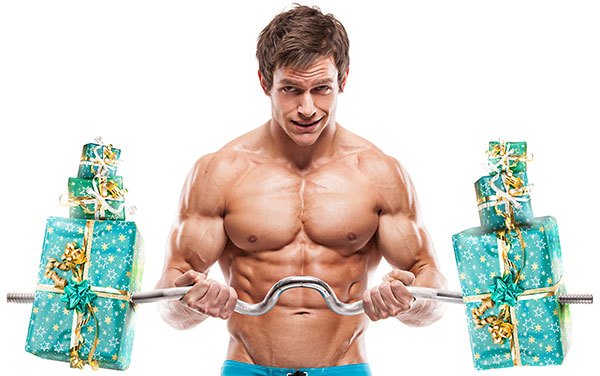 Most people try to be healthy, but there is a rare breed who really loves exercising. If you have a friend or family member who is a bit of a health nut, you know that being fit and living a healthy lifestyle can take over their lives. These are good habits that should be encouraged and you can help them by giving presents that help them stay fit and active. These gifts for fitness lovers help compliment the healthy lifestyle they have. Some are just practical gifts and others are more fun. These gifts are especially good for Christmas to help your fitness buff gear up for New Year's resolutions. Check out the list and I'm sure you'll find the perfect present for your loved one.
Gifts for Fitness Buffs
1. The HIIT Interval Workout Game
Some of the best gifts are those that can enhance or encourage hobbies. Fitness and working out is a hobby that should always be encouraged, and the HIIT game is the perfect way to do that. HIIT Interval Workouts were designed by Sergeant Volkin, a scientist and military fitness expert. The program is meant to help anyone at any fitness level develop elite strength and fitness with no equipment needed.
This gift turns it into a game, one that can be played solo or with friends and family to add some fun competition. Drawing cards creates your workout routine and you can quickly collect points to win the game. If you're new to the workouts, you can scan the card with your smartphone and watch a video demonstrating how to do them correctly. The HIIT Game is fun way to create a daily workout that's unique each day. It's perfect for fitness buffs who don't want a gym membership and enjoy bodyweight exercises.
---
2. A Fitness Tracker
Surprise! Who would've thought we'd suggest this? But seriously, if you have a fitness buff in your life that doesn't have a fitness tracker yet, you need to get them one ASAP. Fitness trackers no only help motivate people to keep up with their fitness goals, but they're also the best way to track exercise time, calories burned, steps, and more.
Depending on what kind of activities your health nut likes to do, there is a perfect fitness tracker for them. There's activity trackers for runners, swimmers, and cyclists. If you're not sure what to get, check out our fitness tracker comparison chart.
---
3. Cooling Towel
A good workout is a sweaty workout. And your beloved can cool down with these awesome cooling towels. Made from premium microfiber with a mesh pattern, just wet the towel and wring it out. It instantly has a cooling effect which helps your body cool down. Perfect for runners and others who workout outside on hot days.
---
4. How To: Yoga Coffee Mug
If the fitness fanatic you're shopping for loves to yoga, then we have the perfect gift for you. The mug features figures on the side doing several yoga poses for each chakra, as well as showing all the steps of the sun salutation. To make this gift even cooler, it comes with a yoga mat coaster. Any yogi will absolutely love this gift.
Include some of their favorite tea or coffee to make a gift bag they'll really appreciate.
Check out more gifts for yogis.
---
5. Fitbook Fitness Journal
If your giftee struggles to meet their fitness goals, this is a gift you an give them which will help them get in shape and lose weight. The Fitbook is a fitness planner and food journal that provides the structure for 12 weeks of goal planning and tracking. It guides you through the process of setting goals, recording results, and even rewarding yourself. This is what people used before fitness tracker bands and bracelets existed and it works well to help people set goals and meet them.
This journal is a great alternative to people who don't like using fitness trackers, smartphones, or apps to monitor their activity and fitness. The Fitbook makes a great Christmas gift because it can help the giftee get a jump start on their New Year's resolutions.
---
6. Gym & Tonic Tote Bag
If you're looking for a fitness gift that's fun and practical, this one is perfect! Most fitness fanatics also dread going to the gym, and this pokes a little bit of fun at that. It's a play on the classic cocktail gin and tonic and is perfect for fitness lovers and health nuts who also like to unwind with a nice drink at the end of the day.
This tote bag is also very practical for toting gym gears books, or even groceries. It's the type of gift anyone can appreciate.
100% cotton tote bag. Designed and printed by FloxCreative, you're supporting the designer directly when you buy through Etsy.
---
7. Bluetooth Jump Rope
Jumping rope is a great, low cost way to exercise. This jump rope from Lift Heavy Fitness takes it to the next level. This is a Bluetooth jump rope. It syncs up with their free smartphone app to track duration of jumping, calories burned, and even distance. It's basically like turning your jump rope into a fitness tracker.
You can set multiple users in the app, so this jump rope can be used by everyone in the family. This is also a great way to introduce kids to fitness and create some fun competition.
---
8. Barbell Bracelet
Fit women love jewelry too, especially jewelry that celebrates one of their favorite past times. This bracelet from ElegantTiger is a handmade tribute for women who lift. The bracelet features black beads with a barbell charm at the center. It's chic and simple design goes well with any outfit and even looks good at the gym.
This is a great gift for women who lift or are into bodybuilding. It's also good for gym nuts who can't get enough fitness time.
Available with a choice of silver, gold, or black barbell charm.
---
9. Grokker Online Fitness Classes
If the fitness nut in your life hates going to the gym (especially on those cold winter days when you don't want to leave the house) give them the next best thing. Grokker is subscription video platform with unlimited home workout and yoga videos. If going to the gym is inconvenient or too expensive, Grokker is a fantastic option. Their library of fitness videos include yoga, cardio, dance, interval training, pilates, and even weight training. There's so much variety in content that you'll never get bored with the workouts.
This is a great gift to give to students or moms who don't have time to go to the gym. They can get their workout in anywhere using the Grokker website or smartphone and tablet apps. In addition to their fitness programs, they even have guided meditations and cooking programs. The cooking videos are great for anyone who is trying to stick to a diet or learn to cook for the first time. This is a gift that will keep on giving every month.
---
10. Challenge Accepted Running Medal Holder
If your giftee loves to run marathons or 5Ks, then they will really appreciate this gift. This iron rack is handmade by SportHooks and perfect for displaying running medals. The business is run by an avid runner who was looking for a way to display their medals instead of just putting them away in a drawer. They invented this cool rack, which features ten hooks to display medals on.
There are 28 designs to choose from, so you're sure to find one perfect for the runner in your life. The one pictured right says "Challenge Accepted."
---
11. Jabra Elite Sport Wireless Earbuds & Fitness Tracker
Music is the driving force behind many workouts, especially for runners. Often traditional headphones are a problem, the cords can get in the way and cause safety concerns, plus they're not durable against sweat or rain. These wireless earbuds from Jabra are designed specifically for running and other workouts. The in ear buds have no cords and are fully waterproof. They come with multiple sizes of gels and wings to find the perfect fit for your ears, which will hold the earbuds securely in place through even the most vigorous workouts. They have a 4.5-hour battery life, long enough to last most work out sessions, plus they come with a charging case that holds an additional 13.5 hours.
What sets these headphones apart from any other pair of earbuds, is they are actually fitness trackers. They have a built in heart rate monitor and a smartphone app that tracks your activity and includes features like rep counting, race pace calculator, and recovery advice. These are must have earbuds for runners.
---
12. Running Hydration Belt
If you're shopping for a runner, here's another great gift to consider. Any runner or jogger who exercises outside knows the pain of trying to figure out how to carry essentials without bogging themselves down. This hydration belt from X Fit Factor solves that problem. First it comes with two 10 oz. water bottles to keep runners hydrated. The center pocket has two sections, one for your smartphone to keep it safe from scratches, and the other for things like keys, IDs, credit cards, or protein gels.
Made from high-quality neoprene, this belt is sweatproof and perfect for keeping essentials at hand without interfering with running stride. This is the kind of practical fitness gift runners will really appreciate.
Check out more water belts for runners.
---
13. Bobble Filtering Water Bottle
Hydration is important for all exercise fanatics, not just runners. And this gift is perfect for people who work out at the gym, the park, or anywhere else. Bottled water is expensive and bad for the environment. Bobble gives a great solution so you can have great tasting water anywhere. This water bottle has a built-in charcoal filter, so you can fill it up at the park water fountain and still get great tasting water.
Available in 18.5 oz and 34 oz sizes, this water bottle is great at the gym, the office, or school. It also comes in nine colors to fit any style.
Check out handheld water bottles for runners.
---
14. Bowflex SelectTech 552 Adjustable Dumbbells
It's hard to bring the experience of a gym to your home if you're short on space. Most people don't have an entire room to dedicate to workout equipment, including a full set of dumbbells. These adjustable dumbbells are a neat solution. Using only two dumbbels, their weights can be adjsuted to equal 15 sets of weight. Using a dial system, you can adjust the weight in 2.5 pound increments to get the weight you need.
This is a great way to do weight training at home without a ton of equipment. Any fitness fanatic would love this workout gift.
---
15. Nayoya Acupressure Mat
Pain is a part of the game, even for very active and fit people. An acupressure mat is a great, holistic way to treat body pain naturally. It's espeically good for back and neck pain that is often common in office workers. Acupressure mats have several points on it to stimulate acupressure points on your body and increase blood flow to affected areas. The results is pain and stress relief just from laying down on the mat.
This is a great gift for fitness minded people who are dealing with sore muscles after a workout or general aches and pains from day to day life.
Check out more acupressure mats for back pain.
---
Still searching for the perfect fitness gift? Check out these fabulous gift ideas for runners.