Many people have jumped on the fitness tracker trend to help keep them motivated to live an active and healthy life. They're often people who already have favorite workout activities and just need to find the perfect tracker for running, swimmings, or cycling. But you may be coming to fitness tracking with a different goal, one of general weight loss and healthiness. If you're looking for the best activity tracker for weight loss, the search is a little more tricky.
Instead of just looking for something that looks cool and counts your steps, you'll need a fitness tracker that has features to help you with your weight loss goals. We've considered all the options to find the best activity tracker for weight loss. Here are our recommendations.
Best Activity Tracker for Weight Loss
Apple Watch Series 4
Oh boy! There's so much to say about Apple's latest offering. The Apple Watch is the ultimate companion for anyone on a weight loss journey, but it comes with a hefty price tag. When my last fitness tracker died, I made the switch and I have not regretted it. If you're an Apple user, it's a no brainer to switch to the Apple Watch which becomes an extension of your iPhone, putting all your favorite apps, texts, calls, and fitness tracking right on your wrist. If you don't own an iPhone, go ahead and skip to the next recommendation, because an Apple Watch won't work for you.
If your focus is on weight loss, then the Apple Watch is perfectly designed to help you ramp up your new healthy lifestyle at a reasonable pace. With the built-in Activity app, your Watch becomes your personal fitness guru. You're challenged to close three rings a day: 30 minutes of exercise, 12 stand hours, and then a personalized movie goal. You'll get reminders throughout the day of your progress, with encouraging messages to help you close each one each day. As you hit milestones, you earn badges for streaks, records, and special events. Each month the app selects a personal goal based on your previous activity. You can go from sedentary to fully fit thanks to the Apple Watch's easy guidance.
I've seen tons of success stories of people losing weight just by closing those three rings. One of the great things about the Apple Watch is no matter what activity you prefer, it can record that exercise. It's waterproof for swimming, has detailed GPS tracking for runners, and wrist-based tracking for your yoga flow.
With all of this, the best part is the Apple Watch isn't some utilitarian fitness tracker. It's designed to be a gorgeous watch. You can change out the bands and the watch faces for millions of looks, so you're styling at the office, a party, or in the gym. If you opt for the cellular version, you can leave your phone behind and have the complete freedom and protection you need no matter where you go.
Available colors: Silver, Gold, Spay Gray
Tracks: Everything! Heart rate, time standing, steps, calories burned, minutes meditated. Unlimited tracking options via third-party apps
Notable features: Waterproof, GPS, Cellular Option, 100s of custom bands, Customizable Watch Faces, Move Reminders, Exercise Tracking, Guided Meditations, iOS Apps, Wrist Based Heart Rate, ECG, Emergency SOS, Automatic Workout Detection, listen to music via Bluetooth
Pros:
Choice of GPS or Cellular
Tracks a Variety of Exercises
Closing Rings a Great Motivation for Weight Loss
100s of Apps
Waterproof

Cons:
Higher Price Tag Compared to Other Trackers
Must Have iPhone to Use
High Tech Screen Can Shatter with Direct Impact

---
Fitbit Blaze Smart Fitness Watch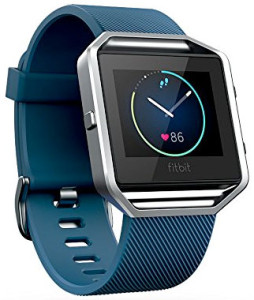 While any Fitbit is a great choice for losing weight because of the Fitbit Aria WiFi Smart Scale, we recommend the Blaze smart watch if you're looking for the best activity tracker for weight loss. It has a ton of amazing features you can only find in a premium fitness watch.
Key features include PurePulse Heart Rate monitoring and the ability to connect with GPS on your phone to map your routes and see in depth stats like pace and duration for running. It also features a new app called Fitstar, which has on-screen workouts with step-by-step instructions. Blaze basically works like a trainer and personal health coach.
Blaze features the Smarttrack exercise recognizer and multiple sport modes so you can log activities like running, biking, and cardio while seeing real-time stats on display. This watch gives you so many options for exercise to lose weight, but it also lets you set weekly workout goals and see summaries to check your progress.
Like most smartwatches, you can customize your bands to match your outfits and also receive call, text, and calendar alerts. It has music control for your smartphone (volume, play, pause, switch songs). But, it also features sleep tracking and silent alarms, a feature not currently offered with Apple Watches.
Available colors: black/silver, blue/silver, plum/silver
Tracks: steps, distance, calories burned, floors climbed, active minutes, heart rate, multi-sport tracking
Notable features: connected GPS (requires smartphone), interchangeable accessory bands, auto workout recording, on-screen workouts, smart notifications (call, text, and calendar), music control (with smartphone), auto-sleep tracking, silent alarms, up to 5-day rechargeable battery
---
Garmin Vivosmart HR Fitness Tracker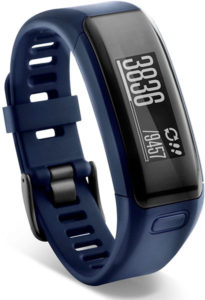 Garmin is making some of the best activity trackers available on the market currently, but comparing prices and features, we recommend the Garmin Vivosmart for people who want to lose weight. It has plenty of features to help with weight loss and also has most of the features people look for when buying activity trackers.
The Garmin Vivosmart HR is an update to their original tracker which features wrist-based heart rate monitoring in addition to step counting and activity monitoring. It uses the heart rate information to more accurately calculate calories burned and the efficiency of your workout. The Vivosmart HR monitors your current activity level and then sets attainable daily goals, gradually moving you toward a healthier lifestyle. It also uses vibrations to remind you to keep moving throughout the day.
For workout tracking and motivation, it syncs with your smartphone and you can also create a MyFitnessPal account to help you compare calories consumed to calories burned so you can easily track and meet weight loss goals. If you want a smart scale to go with your fitness tracker, Garmin also makes the Garmin Index Smart Scale which will also sync directly to your account for accurate weight loss tracking.
Available colors: black, imperial purple, midnight blue
Tracks: heart rate, calories burned, steps, distance, floors climbed, activity intensity & minutes, treadmill running, sleep monitoring (total sleep and quality)
Notable features: smart notifications (calls, texts, music, etc.), time display, move reminders, barometric altimeter, control music, daily goals, Garmin Connect community, 5 day battery life, waterproof 5 ATM
---
---