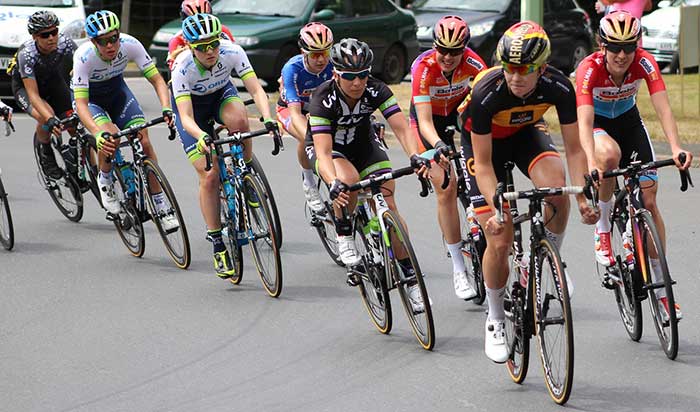 While more and more athletes and fitness enthusiasts are jumping on board the fitness activity tracker train every day now, cyclists have a special problem that stops many of them from purchasing fitness trackers. The physical act of cycling goes uncounted on many of the popular activity trackers available today which are designed to measure steps taken while running or walking. As a result, caloric burn rates are inaccurate and you don't get credit for the bike rides you take. That's why if you spend most of your day on a bike or that's your main form of exercise, you should only consider fitness trackers for cycling.
Luckily, there are now a few fitness trackers that offer special bicycling modes where data is measured and collected differently so as to be accurate. Here are some of the best fitness trackers for cyclists:
Best Fitness Trackers for Cycling
TomTom Spark GPS Fitness Watch
The latest update to TomTom's Fitness Watch is pleasing cyclists and other active folks. This is a great all-around fitness tracker and smartwatch that has features cyclists will appreciate. The most promoted features are for runners, with GPS tracking, live stats, and route tracking. Those same features can be applied to cyclists since the Multisport Mode on the Spark 3 tracks biking and indoor cycling (in addition to a variety of other common workouts). When you're riding, the Spark 3 will track speed, pace, distance, calories burnt and duration. This model comes with a new feature for trail tracking, allowing you to ride an unfamiliar route while it tracks you with "breadcrumbs" to easily find your way back to the start, or you can follow a preloaded trail. TomTom also sells an optional cadence and speed sensor to send real-time data to your fitness watch.
Since this is a multi-sport watch, it's great for triathletes and outdoorsy people. In addition to cycling, it is a waterproof GPS watch that tracks swimming metrics. It also tracks running so your daily jog will be included in your stats. The Indoor Training mode keeps you motivated and tracks your performance at the gym. The race mode allows you to "race against" a previous workout to improve time.
This fitness watch comes in a basic model or you can upgrade to the Spark 3 Cardio which includes a heart rate monitor. The Spark 3 Cardio is also available as a Music bundle with Bluetooth headphones and 3GB of music storage. All three models are great, it just depends on what you need from your fitness watch.
Available colors: black
Tracks: steps, active minutes, distance, calories burned, sleep, running stats (speed, pace, distance, calories burnt, duration, breadcrumb or preloaded trails)
Notable features: Built-in GPS, 24/7 activity tracking, multisport mode, route exploration, battery: 3 weeks activity tracking, 11 hours GPS, waterproof to 40m (130 ft), indoor training mode for the gym, race mode, interval training, auto sleep tracking
---
Misfit Wearables Shine 2 Fitness Tracker
The Misfit Shine 2 is a great well-rounded fitness tracker and an excellent cycling activity tracker. This versatile tracker can be worn as a wristband, clip-on, or even as jewelry. To take full advantage of it's cycling tracking, you clip it to your shoe. This allows it to more accurately record your exercise which can then be tagged as cycling in the app.
The Shine 2 is waterproof and automatically tracks all modes of your life: running, swimming, sleeping. The sleep tracking helps you make the most of your nights, so you're ready to hit the ground running the next day. You basically just put the tracker on and forget about it (especially since the battery only needs to be replaced every 6 months). This is a tough little tracker, it's made from aircraft-grade aluminum and glass-reinforced polycarbonate, which makes it waterproof up to 50 meters.
Available colors: carbon black, rose gold (other third party replacement bands are available)
Tracks: steps, calories burned, distance, activity types, sleep quality and duration
Notable features: water-resistant up to 50 meters, interchangeable bands and clips, vibration alarm for text and call alerts, move reminders, 6 month replaceable battery, control music on synced smartphone
---
Moov NOW Personal Coach & Workout Tracker
Recently updated with version 2, the Moov Now is more than just a cycling activity tracker. It is a personal coach that literally talks you through your workout with programs for running, cycling, cardio boxing, and body weights. The tracker advises you on how to get the most out of your workout and motivates you to achieve your fitness goals.
Some consider this to be the best activity tracker for cycling. When worn on your ankle, the Moov NOW tracks your speed, distance, and cadence. Your phone can then give you verbal updates and audio coaching while you ride so you don't have to fiddle with the device. The app monitors your progress and helps you improve over time. With an extremely affordable price point, the Moov NOW is a great activity tracker to consider for biking and general fitness tracking.
Available colors: aqua blue, stealth black, blizzard white, berry pink, sky blue, sunrise orange, fusion red
Tracks: steps, swimming (strokes, lap time, turn time, rests), cycling (power output, cadence, in depth analysis), sleep duration
Notable features: personal audio coach, guided workouts, 6 month battery life, waterproof activity band, Omni Motion Sensor 3D tracking, auto sleep tracking, compatible with iPhone or Android
---
Garmin Vivosmart HR+ Fitness Trackers for Cycling
The Garmin Vivosmart HR is an update to their original tracker which features wrist-based heart rate monitoring. Most fitness trackers for cycling don't have heart rate monitoring build into the band. It uses that information to more accurately calculate calories burned and the efficiency of your workout or cycling.
If you're just looking to get healthier and be more active, the Vivosmart HR features goals. It automatically sets step goals for you each day that an incremental and achievable. The fitness band also features move reminders, great for office workers who sit at a computer all day.
If GPS tracking is a much for your bike riding and offroading, the Vivosmart HR+ has all the same features plus built-in GPS.
Available colors: black, imperial purple, midnight blue
Tracks: heart rate, calories burned, steps, distance, floors climbed, activity intensity & minutes, treadmill running, sleep monitoring (total sleep and quality)
Notable features: smart notifications (calls, texts, music, etc.), time display, move reminders, barometric altimeter, control music or VIRB action camera, daily goals, Garmin Connect community, 5 day battery life, waterproof 5 ATM
---
Garmin Vivoactive GPS Smartwatch for Cycling
The Vivoactive is amazing, and has gotten even better since Garmin updated the newest model with both built in heart rate monitoring and GPS tracking. Think of it like a more sports focused smartwatch than the Apple Watch or with built in GPS unlike the Fitbit Blaze. It's a well rounded tracker like the TomTom Multisport, including tracking for running, biking, golfing, and swimming. If you specifically want a cycling activity tracker, the Vivoactive HR has plenty of features just for you in their cycling sport app. The smartwatch uses GPS to track your rides and give you daily and weekly stats. It measures time, distance, speed, and calories burned. It's also compatible with Garmin speed and cadence sensors if you want even more cycling data.
The color touchscreen gives you all the features of a smartwatch. When paired with your smartphone, you can receive text and call notifications. There are also customizable widgets and apps. This is an all-around great smartwatch and activity tracker, perfect for cyclists, runners, and professionals who want to stay in shape.
Available colors: black, white
Tracks: running (distance, pace, cadence, speed), treadmill running, cycling (time, distance, speed, calories), golfing (course maps, par, layup and dogleg distances, stroke play scorecard), steps, swimming (total and interval distance, laps, calories burned, stroke count), floors climbed
Notable features: Built in GPS, sports apps, smartphone alerts (calls, texts, calendar, etc.), customizable watch faces, widgets and apps, long-lasting battery (3 weeks in watch/activity tracking, 10 hours GPS mode), waterproof 5 ATM, step count goals, Garmin connect auto-syncing
---
If cycling is your main form of exercise or you're a cyclist who uses bike riding as your main form of transportation, you may not find all the stats you need with a fitness tracker. If you want a speedometer and odometer for your bike, check out affordable basic cycling computers. If you're looking for a little more, check out bike computers with cadence sensors or GPS biking computers. Find the best phone mounts for cycling to use your smartphone for tracking and navigation. Keep your hands warm while you stay connected with these touch screen cycling gloves.