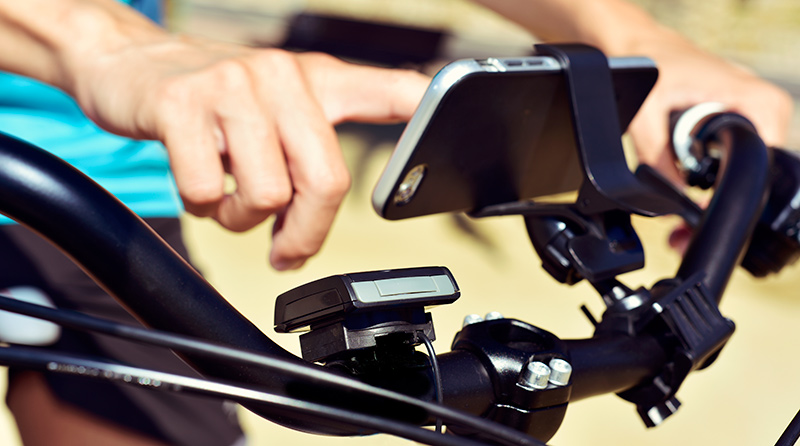 We use our smartphones for almost every part of our life and there are a dozen reasons to mount your phone to the handlebar of your bike. Maybe you use your phone for GPS directions or like to easily change your music while you ride. Maybe you aren't interested in buying a fitness tracker, cycling computer, or GPS computer for your bike. Whatever you need, there are tons of affordable bike mounts for phones. For this article, we've rounded up the best phones mounts for cycling so you can find the perfect one.
Phone Mounts for Bikes
Ram Mount X Grip
One of the challenges with phone mounts is you often need to find one that fits your specific phone model and if you upgrade or switch to a different phone then you need to buy a whole new mount. There are no worries with the X-Grip from Ram Mount. Designed to mount on your handle bar, this system comes with a base and a spring loaded holder that expands and contracts to fit the shape of your phone. So whether you have small iPhone or one of the Plus models or even any variety of Samsung devices, the X Grip will adjust to fit your phont–with or without a case on. The x-shaped arms are spring loaded and tightly hold your smartphone.
For "extreme" conditions, the mount comes with a rubber tether to make sure your device is extra secure. Since this mount is used frequently on motorcycles, you know your phone will be secure during extreme off-roading or just your daily commute. The mount accommodates rails from 1/2″ to 1.25″ in diameter.
---
Wall Fire Waterproof Phone Mount Bag for Bikes
If you're an all weather bicycle commuter or often find yourself mountain biking in inclimate weather, you know you need a little extra protection for your smartphone–especially if it isn't waterproof. This mount bag from Wallfire solves that problem, while providing you with a little extra storage space. Sized for 6″ phones like iPhones and Samsung Galaxy S6, S7 and Note 7, the bag features a waterproof zipper and a sensitive TPU touchscreen covering so you can operate your phone while it's in the bag. The built in visor makes it easier to see your screen in bright sunlight.
For storage, there is a bag underneath where you can stash your wallet, keys, headphones, and other small items. The bag attaches to your bike with three adjustable velcro straps that will easily fit most bikes. This is a great option to secure your phone while you ride and give you a little extra storage space.
---
Quad Lock Bike Kit Phone Mount
Quad Lock is different from the mounts we've reviwed thus far because it's two pieces: one is a phone case made for specific phone models and the other is the mount itself. The mount is designed to fit your stem or handlebars with 25-40mm diameters and has a low profile design that is unobtrusive. Once the mount is installed, it's easy to quickly snap your phone on and off the mount. This mount is perfect if you need quick access to your smartphone to take photos or make a call. The case is designed like any other protective case, giving you edge to edge protection while provided access to all the ports and buttons on your phone. Plus the case is compatible will all other Quad Lock products, including their car mount. We highly recommend this system if you bike and drive.
The Quad Lock comes with an optional rain-resistant cover that slides over the top of your phone and protects it from the elements. Quad Locks sell different kits for different phones. Currently, they offer kits for Samsung Galaxy S8+, iPhone 5/5S/SE, iPhone 6s Plus/6 Plus, iPhone 6s/6, iPhone 8 Plus/7 Plus, iPhone 8/7, and iPhone X, or you can buy just the bike mount or the universal bike kit.
---
Vibrelli Universal Bike Phone Mount
If you're looking for a cheap and affordable option to mount your phone to your bike, check out the Vibrelli. This universal phone mount can fit any smartphone up to 3.7″ wide and mounts to any handlebars between 0.9-1.3″ in diameter. It's designed with an adjustable clamp and a three silicone bands for extra security (you only need to use one at a time, but they recommend using two at once for extra security. It's quick to clip your phone in and out of the clamp, and it can also rotate so you can view your device horizontally. Since this is a clamp, you have full access your screen, buttons, and ports, but it doesn't offer an additional protection against rain or mud. But because it's so adaptable, you can easily use this mount while your phone is in a protective case.
Easy to use and compatible with so many different phones and biles, the Vibrelli Smartphone Bike Mount is a great option if you want a budget mount for regular cycling.
---
Need more gadgets to track your ride? Check out the best fitness trackers for cycling, speedometer bike computers, bike computers with cadence, and the best cycling computers with GPS. Keep your hands warm while you stay connected with these touch screen cycling gloves.