If you're a serious cyclist who wants the most accurate tracking with the most features, you probably want a GPS Bike Computer. In addition to the normal speedometer and odometer tracking, they feature GPS which provides precision tracking. The GPS uses satellite navigation (similar to what is used for a car GPS or GPS sports watch) to track your speed and the distance traveled, as well as the route you took, elevation, and other advanced tracking stats.
If you're looking for the best bike computer to keep track of distance, speed, and other riding stats, check out the cycling computers below.
GPS Bike Computer for Cycling
Cateye Stealth 50 GPS Cycling Computer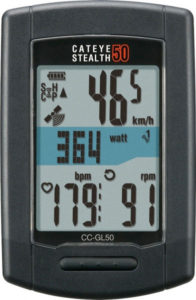 Often buying a bicycle computer with GPS adds on significantly to the price. However, with the Stealth 50, you get the GPS tracking at an affordable price. Because it utilizes GPS for speed and distance tracking, you do not need to set up any sensors. Just power up and go. This makes the Cateye wireless cycling computer perfect for bikers who ride multiple bikes. You can go from street bike to mountain bike and back again easily without any sensors to move or calibrate.
Tracking is automatic and you can upload your data to CatEyeAtlas.com or TrainingPeaks to visualize your route, analyze performance, or even share your ride with your friends. If you want more than the basic tracking, this cyclocomputer is ANT+ compatible so you can pair it with a power meter, heart rate monitor, cadence sensor, or even a speed sensor. This makes a great base model to get started with your biking tracking. You can add on more sensors as needed and as your training progresses.
Tracks: speed (current, average, and maximum), distance, elapsed time
Notable features: GPS bike computer, ANT+ compatible, backlit, waterproof, uploadable data, USB rechargeable, 5 hour charge time, 10 hour operating time clock (12 hour or 24 hour)
---
Polar M450 Computer with GPS for Bikes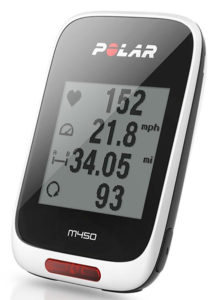 If you're looking for the best mountain bike computer with GPS, the Polar M450 is a strong contender. It tracks all the basics, plus includes real-time GPS tracking. It uses GPS to record your speed, distance, and route, all without sensors. In addition to that tracking, the M450 functions like a fitness tracker or smartwatch with advanced training modes. It tracks and compares the training load of different workouts and helps you balance it with recovery time. This allows you to adjust to the perfect training time for your body. Use the Orthostatic Test and Fitness test to track current fitness levels. After each ride, the computer will give you motivating feedback about the effect of your training session.
If you're looking for a Bluetooth cycling computer, the Polar M450 is compatible with Polar Bluetooth Smart sensors for monitoring heart rate, speed, cadence, or power. Even if you use these add-ons, the Bluetooth connectivity means this will always be a wireless bike computer.
Amazon sells the M450 alone or bundled with the heart rate monitor.
Tracks: cycling speed, distance, route, heart rate (optional add-on)
Notable features: integrated cycling GPS, precision barometer, changeable color covers (sold separately), LED safety light, syncs to Polar Flow app and web, Strave connection, Bluetooth Smart sensor compatibility, Smart Coaching training guidance, Fitness Tests, 12 hour battery, rechargeable battery
---
Garmin Edge 530 GPS Bike Computer with Cadence and Heart Rate
If you're serious about cycling and want the most accurate, professional stats you can get, consider buying a Garmin Edge bike computer. In addition to GPS for bikes, it also features cadence and heart rate monitoring. It's like a "smart cycling computer" or a smart watch for your bike. If you're thinking about buying a smartwatch or fitness tracker for cycling, the Edge may have the features you're looking for in a bicycle computer.
In addition to tracking the normal stats, the Edge also features training programs to help push you to meet exercise goals. Use Strava for ride challenges and live feedback during your ride. Or use any ANT+ indoor trainers and track your progress on the Garmin Edge. Unlike more cyclocomputers, the Garmin Edge has a color screen. Advanced features include smart notifications when paired with your phone, so you don't miss a call or message while you're riding. It's also compatible with Garmin Connect and auto syncs data to your computer.
The Edge is a little bit pricier than most Bike GPS computers, but that's because of all of the features it has. This model is one of the best Garmin bike computers.
Tracks: GPS (speed, distance), speed (sensor), cadence, heart rate, calories
Notable features: GPS cycling computer, color display, up to 15 hour battery life, waterproof, barometric altimeter, smart notifications, compatible with Vector, cadence sensor, heart rate monitor, Virtual Partner, Courses, Auto Pause, Auto Lap, Auto Scroll through data, advanced workouts, time/distance alert, interval training, temperature display, customizable screens, shock resistant, Garmin Connect, weather alerts
---
Sigma Sport ROX 10.0 Basic GPS Bicycle Computer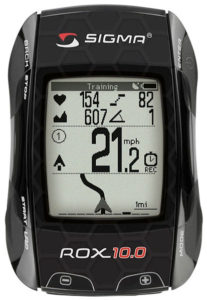 It has "basic" in the name, but the Sigma Sport ROX is much more than a basic bike speedometer. It comes with GPS navigation and tracking, as well as an elevation profile with ascents and descents tracking. That makes this perfect for serious cyclists on mountain bikes or commuters using a road bike.
The GPS receiver not only tracks your distance and speed but also provides route navigation. The display not only shows an illustration of the route, but also time and distance to destination, off-track alarm, and a wrong direction alarm. It includes Data Center planning and mapping software to map the perfect course for your bike training.
If you want to add more sensors and stats to the device, it is ANT+ wireless compatible for wireless speed, cadence, and heart rate transmitters.
Available colors: black, white
Tracks: elevation, distance, speed, route maps
Notable features: GPS cycling computer, rechargeable battery with micro USB cable, LCD display, altitude, temperature, lap counter, route navigation and guidance along saved routes, Data Center 3 mapping functionality, ANT+ wireless compatibility
---
Bryton Rider 310 GPS Cycling Computer with Cadence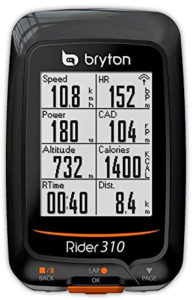 If you want a budget cycling computer with both GPS and cadence sensors, then the Bryton Rider 310 is a fantastic option. GPS for cycling and the cadence sensor are included, plus you can add on even more by buying a separate heart rate monitor. Because this bike computer uses GPS to track distance, you do not need to install a speed sensor (a cadence sensor will need to be installed).
This unit boasts 70 different functions, including lots of data tracking. If you're looking for a mountain bike GPS computer, this model is perfect with a built-in barometer for measuring terrain. The screen is easy to read and can display different data points at once (which are customizable). It also includes Bryton Test, a preloaded cycling program to help you improve and train systematically. This is a Bluetooth cycling computer, which means you can upload your stats wirelessly to training sites like STRAVA and TrainingPeaks to compete with friends.
Tracks: GPS distance, speed, cadence, time, lap, calories, altitude, power
Notable features: GPS cycling computer, compatible with ANT+, 36 hour battery life, anti-glare display, backlight, uploadable stats via Bluetooth, waterproof, customizable screen, optional heart rate monitor, auto start/stop
---
Still looking for the perfect way to track your cycling?
If biking is just one of many types of exercise you do to stay fit, consider a cycling activity trackers.
If biking is your main form of exercise, or you use a street bike to commute every day, you should consider a bicycle computer. For a basic option, check out speedometers and odometers. Advanced cyclists and those in training may want a bike computer with cadence.
Find the best phone mounts for cycling to use your smartphone for tracking and navigation.