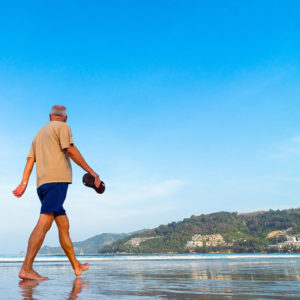 As parents and grandparents age, family members often worry about their well being. Whether they suffer from dementia or just general forgetfulness, there's often a concern about seniors getting lost, going missing, or having health problems away from home. GPS trackers for seniors are a great way to provide peace of mind to relatives while allowing elderly family members to continue living an independent life in their own home. These trackers will allow you to locate your parent or grandparent in an emergency or if they go missing.
One thing to note when shopping for GPS trackers for seniors: these devices all require some sort of mobile data or subscription program to work. This is standard to have a working GPS tracker. Either the makers of the device will offer their own monthly subscription or you will be able to insert a SIM card in the device. For trackers that accept a SIM card, you may be able to get one at a discount "data only" rate from your cell phone provider.
Best GPS Trackers for Seniors
Yepzon One Senior GPS Locator
Yepzon may have a strange name, but this Nordic designed GPS tracker is perfect for keeping tabs on pets, kids, and elderly family memebers. The tracker is a sleek, white device that can be worn as a necklace or attach to the body or clothes in other ways. It requires a $4.95 a month subscription fee, which provides you will location updates every 10 seconds, which you can check at any time in the Yepzon app. The app can be shared with family members and caregivers, so all of the important people in your life can track the person. Yepzon comes with a rechargable battery that features energy saving settings. The device automatically goes to sleep if there is no movement detected and you can switch it off at night to save battery life.
The big con with this tracker is that the senior citizen you want to track needs to remember to put it on when they leave the house. You could easily slip it into a jacket pocket or purse, but again they would need to remember to take that item with them so you can track them. Reviewers also say the sleep mode can be a con, as the device does not transmit the current location when it is asleep. Other reviewers have found it to be a perfect solution for tracking elderly family members with dementia and Alzheimer's.
Notable features: location tracking every 10 seconds, Yepzon app (iPhone, Android, Windows), long battery life, $4.95 a month subscription fee, worldwide coverage for US, Europe, and Russia
---
Article continues below
---
LESHP GPS Tracking Device
If you're looking for GPS tracking for elderly family members that has more features, check out the LESHP. Most people we talk to who are shopping for senior GPS tracking devices also want one with a built in alarm button that the wearer can press if there is an emergency situation. The LESHP has a built-in SOS button that automatically sends a text message and call to up to 3 different numbers. It also enables 2 way voice communication through the device so you can find out exactly what's wrong. This makes this GPS tracker perfect for seniors and also children. If falling and getting injured is a concern, this device also has a built-in fall monitor. They also advertise a "spy mode," where you can listen in the device remotely, but that may not be a feature you need.
The LESHP utilizes a SIM card and regular data plan to provide GPS tracking, which gives you flexibility in purchasing the card from your cellular provider or a cheaper plan. It can be worn around the neck, attached to a keyring, or placed in a pocket, purse, or bag. This can be a con, especially if the person who you want to track forgets to take the tracker with them. Another con for the LESHP is that the device does not have an accompanying app. Instead, you send a text message to the number for the SIM card and it will respond with a link to Google maps that you can view on a smartphone. Alternatively, you can sign up for a web account to view location info on their tracker website. If you're looking for more features, this is a good option for GPS tracking for seniors.
Notable features: SOS alert button, 2-way calling, Geo-fencing/perimeter boundaries, SIM card slot, fall monitor, docking station for charging
---
Pocketfinder GPS Locator for Seniors
If you're looking for compact GPS tracking for elderly dementia patients, consider Pocketfinder. The device can be placed in a bag or clipped to the person you want to track. Using a computer or the free smartphone app you can get real-time location updates. Use the app to set up zones and receive alerts (text, email, and push notification) when your elderly family member wanders away. Pocketfinder requires a monthly subscription fee ($12.95 for the US), which gives you the real-time GPS tracking.
Sturdy and waterproof, Pocketfinder has no "sleep" mode so you can always find your loved one's location. Some reviewers have found that the cell coverage required for this device to work is not available in the area where they live. You may want to look into the availability in your area before you buy.
Notable features: Monthly service plan, free iOS & Android app, rechargeable battery, 1-5 day battery life, zone alerts, speed alerts, 60 days historical location data, waterproof
---
Need more GPS tracking? Check out GPS tracker clips and watches for kids and dog activity trackers.