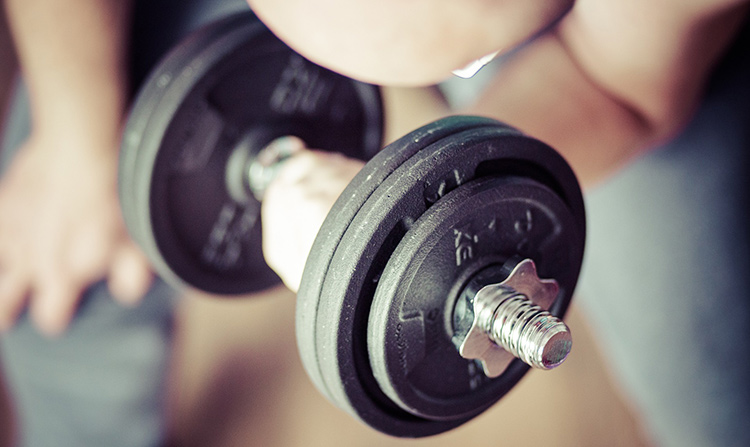 A lot of fitness trackers focus on simple tasks like walking or running. But if you spend a lot of time in the gym or weight lifting is an important part of your workout routine, you might find a lot of activity trackers to be lacking in that department. Luckily, there are some models of fitness trackers that offer features for gym workouts. For this article, we've looked at all the options available and found the best activity trackers for weight lifting and gym workouts. Check out our comparison chart and then the reviews in the next section.
Best Activity Trackers for Weight Lifting Comparison Chart
Check out our comparison chart for fitness trackers for weight lifting. If you want to read our in-depth review of each tracker, scroll down to the next section.
Want to compare all of the fitness trackers we've reviewed? Check out our Fitness Tracker Comparison Chart.
Best Fitness Trackers for Weight Lifting Reviews
GYMWATCH Fitness Tracker
If most of your workout time is spent in the gym, and weight lifting and strength training are a big part of your routine, then the GYMWATCH is designed for you. The tracker straps to your arm or leg (depending on what workout you're doing) and connects via Bluetooth to your smartphone. Use the app to select a workout and it will show you where to place the sensor (you can even use two as a duo sensor for simultaneous upper and lower body training). As you complete your exercise routine–whether it's weight lifting or fitness machines–the app analyzes your movements and gives you live feedback via headphones or screen display. This helps you improve your form and increase the efficiency of your workout. The GYMWATCH and app work like your own personal trainer while tracking your progress automatically.
When you're done with your workout (or even between activities), you can analyze and evaluate your workout. In addition to the usual calories burned data regular fitness trackers give you, the GYMWATCH has tons of data specifically for weight lifting, including moving barrels, range of motion, and time under tension. Because of the portability of the tracker, you can get in your strength training anywhere: at the gym, at home, in the park.
Though it has "watch" in the name, the tracker is just a sensor–it has no display and doesn't show the time. You have to use your smartphone and the app to get the full effect of the coaching and tracking. They also have a web portal you can use to really analyze your stats on your computer at home. It also doesn't do any of the regular activity tracker functions like tracking steps. The focus is really on gym workouts or bodyweight strength training. Hands down, the GYMWATCH is one of the best fitness trackers for weight lifting currently available.
Available colors: Coal black, cool white
Tracks: Calories burned, moving barrels, speed, average weight per exercise, range of motion, time under tension, trends
Notable features: Adjustable band, smartphone app (iOS 8+, Android 4.1+), web portal, rechargeable via MicroUSB
---
Atlas Wearables Fitness Wristband
If the GYMWATCH is out of your budget, the Atlas wristband is a cheaper option to consider. Designed with a variety of workouts in mind, the Atlas wristband is perfect for weight lifting, strength training, and other fitness activities. It features their trademarked Adaptive Motion Tracking that automatically logs exercises, counts reps, and analyzes your form. Again, this is like having a fitness coach on your wrist.
The wristband automatically identifies the exercise and records reps and other workout data to give you all the stats when you finish. Since it uses your smartphone app to track and analyze the data, this wristband is always updating and adding new supported workout types. Currently, it can track over 100 standard exercises, including weight lifting with barbells, dumbbells, and kettlebells. It also tracks other exercises and aerobics like Crossfit, HIIT, and even swimming. If you're doing push-ups or jumping jacks, the Atlas senses it and records it appropriately. If you need guidance for your gym time, the app has workouts designed to focus on a variety of fitness goals like slimming down or even adding bulk and it will guide you through the exercises on the wristband's touchscreen. Or you can go freestyle and the app will track whatever you do.
Now, the Atlas is not an all-day wearable. The large screen on the band looks a little out of place for everyday life–like it's something from a vintage sci-fi movie. If you're looking for all day step counter or heart rate monitor, you'll have to look elsewhere. But for monitoring and coaching while you work out, the Atlas is a good choice.
Available colors: green, yellow
Tracks: calories, heart rate (average and peak), reps, 1RM over time, muscle focus, velocity, form score, workout time, steps
Notable features: Adaptive Motion Tracking, 30m water resistant, automatic exercise tracking, automatic workout log, wrist-based heart rate monitoring, smartphone app (iOS & Android), touch display,
---
Push Band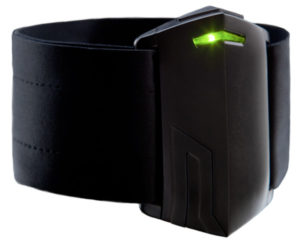 Similar to the Gymwatch, the Push Band is an arm band that will track all of your gym activity. While it won't count your steps, the push band is recommended for coachs to train their athletes remotely, so you know it's good for tracking your gym time. The band tracks over 250 exercises, include a variety of weight lifting activities.
Just put the band on your forearm and use the app to select your activities. The app provides real-time feedback using Velocity Based Training (VBT) and you can use the Portal website to track your progress over time.
Available colors: Black
Tracks: 250 exercises
Notable features: 7 hour continuous motion recording, rechargeable battery, 90 minute charge time, Bluetooth, iOS 9+ app
---
Beast Workout Sensor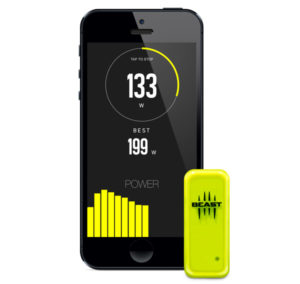 The Beast is a tiny sensor, but it has a powerful tracking app behind it. Worn as a wristband or on their vest mount, it tracks your movements and provides real time feedback on your smartwatch so you can see how hard you're working. The app works as your personal coach, helping you to level up in your workout.
Over time you can evaluate your training cycles based on your results and plan better workouts. The smartphone app and web portal give you a perfect snapshot of your progress and help motivate you to continue improving. Since this tracker is meant specifically for the gym and weight lifting, it doesn't feature any of the general fitness tracker features like step counting, but it tracks all the date you need for your weight lifting routine.
Available colors: Yellow with black strap.
Tracks: Power, speed, force, Weightlifting reps, daily performance
Notable features: Beat web portal, Android & iOS app, included armband, rechargeable battery, microUSB charging cable
---
Still searching for the perfect activity tracker? Check out our fitness tracker comparison chart or discover options through activity tracker features or best trackers by activity type.