There are a lot of fitness options for swimmers these days, with more and more waterproof fitness trackers coming out. But many people don't like the minimalist, futuristic, or utilitarian look of many fitness bands. If you're a traditionalist who is used to wearing a wristwatch or you just like the convenience of seeing the time and your current stats on the tracker without syncing to your smartphone, you should consider buying a waterproof fitness watch for swimming.
If you're a swimmer who needs to track laps and swim times, you definitely need to buy a waterproof watch that's safe to go in the pool or the ocean. If you do watersports like surfing, you'll want a waterproof fitness tracker as well. It's also worth considering a waterproof tracker if you want to be able to go from gym to shower or wash dishes with your tracker on and not worry about destroying it.
Here are a few waterproof fitness watches that are perfect for swimmers.
Swimovate PoolMate2 Swim Waterproof Sports Watch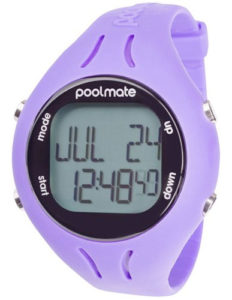 Whether you swim in a pool or the open water of a river, lake, or ocean, the Swimovate PoolMate2 has all the features you need to track your workout. It tracks laps, counts strokes, and also measures your efficieny and calculated calories burned. This is a simple and easy to use waterproof fitness watch that has the features you need and no extra fluff.
This newer model not only boasts the open water tracking but also double the battery life of the original PoolMate. The only downside is this fitness watch is made specifically for swimmers, so it won't track other activities like running or cycling.
Available colors: black, blue, gray, purple
Tracks: laps, strokes per lap, speed, rest time, calories, distance (yards or meters), speed, efficiency
Notable features: open water mode with a stroke pedometer, waterproof to 50 meters, 12 or 24 hour clock, alarm, A99 set chrono mode for timing out of the water, stopwatch, backlight
---
Mio ALPHA 2 Heart Rate Watch and Activity Tracker
If you're looking for a waterproof fitness watch that is also an activity tracker, you should consider the Alpha 2. This sport watch is rechargeable and syncs with the Mio Go App to track your workouts and your heart rate, and full customize your watch. The display also gives you all the info you need about your workout, heartrate, and time without needing to sync.
This band tracks your heart rate without an additional chest strap, so you can get all the data you need whether you're cycling, swimming, or running. It's waterproof up to 30 meters so you can take it in the pool or in the ocean to surf. This is a good all-around sports watch for fitness buffs who workout in the water and on land.
Available colors: black, black/yellow, black/punch (pink)
Tracks: steps, calories, distance, pace, heart rate
Notable features: water resistant to 30 meters, Bluetooth connectivity to sync to iPhone or Android, holds up to 25 hours of workout data
---
Garmin Waterproof Swim Watch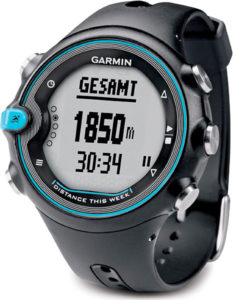 If you want a swimming focused fitness watch that is waterproof but also allows for app syncing, consider the Garmin Swim Watch. This easy to use watch is ready to go as soon as you open the box. All you have to do is swim and Garmin does the rest, auto detecting your swim stroke and tracking length, strokes, distance, and pace. It can also be used to log drills and timed intervals. You can upload your data to Garmin Connect to view detailed metrics and track progress over time.
The Garmin Swim Watch is specifically designed for pool use, so if you need an open water watch, you should buy the Swimovate PoolMate2. It also only features tracking for swimming, so if you have other exercise types you'd like to track, you'll need a more well-rounded activity tracking watch like the Garmin Fenix 3.
Available colors: Black/blue
Tracks: swim distance, pace, stroke count, pool lengths
Notable features: 12 month battery life, 12 or 24 hour time, daily alarm, logs drills, stopwatch
---
Withings Activite Pop Activity and Sleep Tracking Watch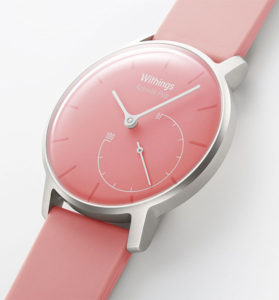 If you're looking for a fitness tracker that actually looks like a traditional watch, the Withings Activite line will suit you. This is a well-rounded fitness watch that's meant to track steps and sleep. It has automatic run detection, so it's perfect for runners who want a discrete fitness tracker. The watch face tells time and also features a dial tracker to show you how close you are to reaching your daily activity goal. Sync with your smartphone to get detail data on distance walked or runner, and sleep data.
The only downside is the Activite Pop does not have specific swim tracking capabilities, even though it's waterproof up to 150 feet. This watch is more for people who want a general waterproof fitness watch and not for swimmers.
Available colors: black, sand, azure, pink (customizable with additional wristbands)
Tracks: steps, distance, running, calories burned, sleep cycle, steps taken
Notable features: silent alarm, sleep cycle analysis, 8 month battery life, automatic run detection, water resistant to 150 feet
---
Garmin Fenix 3 GPS Watch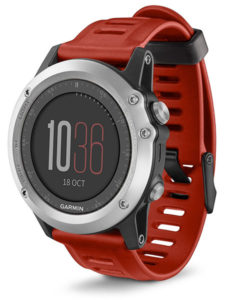 If you want a lot of features in your waterproof fitness watch, the Garmin Fenix 3 may be the perfect model for you. This multisport GPS watch goes with you wherever you go–water, running, the gym–it will track and coach you through everything. Use the preset sport profiles for accurate fitness tracking and GPS to track distance and navigate outdoors. This watch is rugged too, featuring stainless steel buttons and reinforced housing to stand up to whatever comes your way.
It also uses the same technology as Garmin Swim Watch to track all your swimming stats and laps. The Fenix 3 is also a smartwatch, allowing for customized apps, widgets, watch faces, and more. This is a pricey fitness watch, but the fact that it is waterproof and track almost every fitness activity you can think of makes it worth the investment if you're serious about exercise and outdoor sports. This watch is perfect for runners, swimmers, and bike riders. (If you want heart rate tracking built into the band, check out the Garmin Fenix 3 HR)
Available colors: gray/black band, silver/red band, sapphire/metal band, rose gold/white band, silver/leather band
Tracks: distance, running dynamics, swimming (distance, pace, stroke count), skiing/snow boarding (speed, distance, vertical drop), and so much more
Notable features: GPS, Swim profile. waterproof up to 100 meters, optional heart rate monitor strap, smart notifications, weather alert, fitness training, works as a remote for VIRB action cameras
---
---