Most fitness trackers aren't waterproof, and if they are, they're only "water resistant"; which means they can withstand a splash or two, but aren't meant for serious water emersion or even the shower (You can read more about the difference between waterproof and water resistant activity trackers).
Luckily, there are some waterproof fitness activity trackers on the market today. Here are several well-reviewed fitness activity trackers for swimming that actually are waterproof in the true sense of the word:
Garmin Vivofit 3 Activity Tracker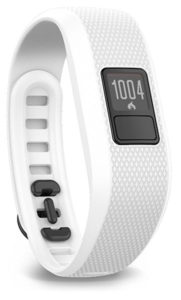 The newest offering from the Garmin Vivofit line is an amazing and well-rounded activity tracker. It features Move IQ, which automatically detects what activity you're doing and records accordingly. When you sync to the Garmin Connect app it helps you set goals and improve your performance over time.
The Vivofit 3 also features basic features like time and step count display on the band. The band is meant to be worn comfortably 24/7, from the gym to the shower and to bed. This waterproof exercise tracker is great for walking, running, biking, swimming, or working out at the gym.
Available colors: black, white (additional colored accessory bands available)
Tracks: steps, calories, distance, intensity minutes, sleep, inactivity
Notable features: 1 year battery life, silicone band, water resistant 5 ATM, auto activity detection, move bar and move reminders, displays time of day, personalized daily goals, Garmin Connect app
---
---
Fitbit Flex 2 Waterproof Activity Tracker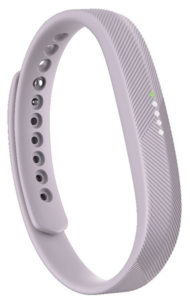 Finally! Fitbit now offers a waterproof activity tracker for swimmers. This fitness wristband comes with an ultra slim design that is easily swapped out with different bands or jewelry so you can wear this tracker in the pool or shower, then out at a party, or in the office. This band is an update to their original Flex, with the big change being the "swimproof" design. You can finally wear your Fitbit in the shower or while swimming in the ocean or pool without destroying your tracker. I have a feeling this one is going to become very popular with swimmers. It also features SmartTrack, which automatically recognizes certain activities (including swimming) and tracks your workout for you automatically. There's also smartphone notifications in addition to the silent alarms. All these features come without sacrificing the battery life of the original model.
This comfortable and easy to wear activity tracker sacrifices the LCD display for LED lights that show you your progress toward the day's step goals. But you still have the Fitbit app to easily track your steps, activity, and sleep on your smartphone or tablet. This is a recent update to the original Fitbit Flex that combines the features users loved about the original with some new functionality.
Available colors: black, lavender, magenta, navy
Tracks: steps, distance, calories burned, active minutes, sleep quality and quantity
Notable features: silent alarm, swappable wristband, automatic sleep monitoring, 5-day rechargeable battery, syncs wirelessly to computers and smartphones, water resistant, SmartTrack auto exericse tracking, waterproof, move reminders
---
Garmin Vivosmart 4 Fitness Band
The Garmin Vivosmart is the Vivofit's cousin, only it features a sleeker, higher end design with a more minimalist display integrated into the band itself. Like the Vivofit, it measures calories burned, steps taken, distance, "move!" reminders, and has great battery life. The Vivosmart takes it a step further though, providing integration with your phone and a touchscreen display.
Available colors: black, blue, berry, slate, green
Tracks: steps, calories, distances, sleep
Notable features: Waterproof 5 ATM, touchscreen, smart notifications (calls, texts, emails), vibration alerts and move reminders, auto-syncs to mobile devices, time display, alarm clock
---
Misfit Wearables Shine 2 Waterproof Activity Tracker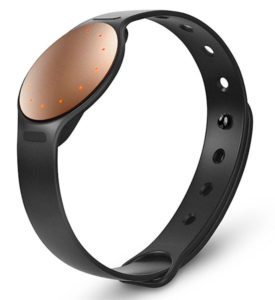 The Misfit Shine 2 is another great waterproof fitness tracker that provides a well rounded tracking system. It automatically tracks all modes of your life: running, swimming, sleeping. The Sleep tracking helps you make the most of your nights, so you're ready to hit the ground running the next day. Hit the pool with confidence as this waterproof tracker will record your swimming activity.
This is a tough little tracker, it's made from aircraft grade aluminum and glass-reinforced polycarbonate, which makes it waterproof up to 50 meters. It's also completely interchangeable with other wristbands, clips ons, or jewelry, so you can wear it wherever and however you want to. The minimalist design makes it match any outfit or occasion so you can truly wear it 24/7.
Available colors: pure silver, carbon black, rose gold (other third party replacement bands are available)
Tracks: steps, calories burned, distance, activity types, sleep quality and duration
Notable features: water resistant up to 50 meters, interchangeable bands, vibration alarm for text and call alerts, move reminders, 6 month replaceable battery
---
Polar V800 GPS Sports Watch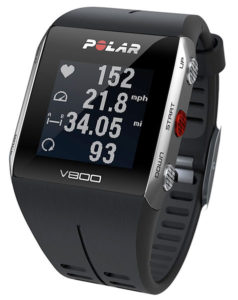 If you're looking for a heavy duty sports watch that is waterproof and tracking swimming, you should considering the Polar V800. This is a heavy duty fitness tracker that hits a lot of the key features shoppers look for: heart rate monitoring, GPS enables, and waterproof for swimming. The multi-sport focus means it's perfect for triatheletes, tracking running, biking, and swimming.
Check out more waterproof fitness watches for swimmers.
Available colors: black/gray, blue/red
Tracks: heart rate, sleep duration and quality, cycling metrics, swimming metrics, calories, distance
Notable features: rechargeable battery, heart rate monitoring, GPS, waterproof to 100 feet, scratch resistant Gorilla Glass lens, real-time multi-sport guidance, inactivity alert, smartphone notifications, timer, vibration alerts
---
Moov NOW Personal Coach & Workout Tracker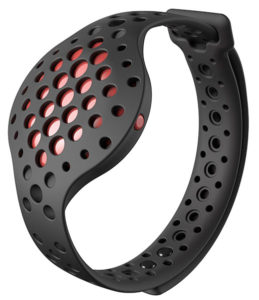 The Moov Now is more than just a waterproof fitness tracker. It is a personal coach that literally talks you through your workout with coaching for running, cycling, cardio boxing, and body weights. The tracker advises you on how to get the most out of your workout and motivates you to achieve your fitness goals.
For swimmers specifically, Moov Now tracks your form including your strokes, to give you feedback and lap breakdowns for your swim. This tracker is small and comfortable and a great choice for swimmers looking for a waterproof fitness band.
Available colors: aqua blue, stealth black, blizzard white, fusion red
Tracks: steps, swimming (strokes, lap time, turn time, rests), cycling (power output, cadence, in depth analysis), sleep duration
Notable features: personal audio coach, guided workouts, 6 month battery life, waterproof activity band
---
---