When people start researching activity trackers, many wonder if they should buy a water resistant fitness tracker. Considering you'll be buying a wristband that you'll wear 24/7, it's a good idea to pay attention to this feature. The kind of exercise and other activities you do on a daily basis will determine if you need a water resistant fitness band.
Most activity trackers and fitness trackers on the market these days are water resistant. That means you can sweat on them and wear them in the rain without issue. Some you can even shower or wash your hands while wearing them and the tracker will be just fine.
If you're a swimmer or plan to wear your fitness tracker while you surf or do other water sports, you don't want a water resistant activity tracker. Instead you need a waterproof fitness band for swimming or a waterproof fitness watch. Many people don't realize there is a difference between water resistant and waterproof trackers, and you need to pay attention to this when you decide what fitness tracker or pedometer to buy. (Read more about the difference between water resistant and waterproof activity trackers.)
If you're just looking for a fitness tracker you can wear without shorting it out from a little moisture, you can save money and have more options to find the right tracker for you. Here are some water resistant trackers to consider:
Water Resistant Fitness Trackers
Nike+ GPS Sportwatch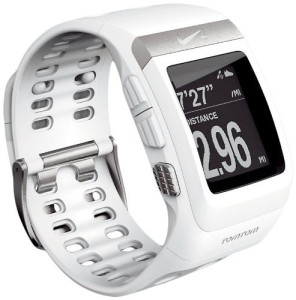 Using TomTom GPS, the Nike+ GPS Sportwatch is an awesome tracker for runners. It combines the GPS tracking with an optional shoe sensor for one of the most accurate step counts runners can find with a wristband tracker.
It's a water resistant fitness tracker so you're fine if you go for a run in the rain, but it's not waterproof so don't jump in the pool with it.
Available colors: black, white, anthracite/blue glow, black/red, black/volt, volt/black, white/sport turquoise
Tracks: time, distance, pace, speed, calories burned
Notable features: Nike+ Challenges to motivate yourself, custom training programs, alarm, stopwatch, Track BPM heart rate with optional HRM sensor, optional shoe sensor
---
Fitbit Flex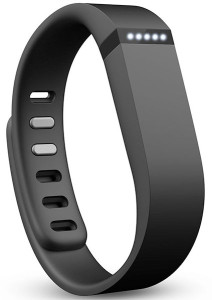 This comfortable and easy to wear activity tracker sacrifices the LCD display of more gaudy pedometer-like bands for LED lights that show you your progress toward the day's step goals. You have the Fitbit app to easily track your steps, activity, and sleep on your smartphone or tablet.
The big difference with the Flex is that the band is fully customizable with a ton of different bands to personalize your Fitbit or match any occasion. Track your activity without sacrificing on style. It's water-resistant, so you don't have to worry about sweat or rain damaging your tracker, but don't wear it in the shower or the pool!
Available colors: black, slate, tangerine, blue, pink, red, teal
Tracks: steps, distance, calories burned, active minutes, sleep quality, and quantity
Notable features: silent alarm, swappable wristband, automatic sleep monitoring, 5-day rechargeable battery, syncs wirelessly to computers and smartphones, water resistant
---
Fitbit Charge 5 Waterproof Trackers
If you want to hit the pool with a new Fitbit, the Charge is a great option with its water resistance up to 50 meters. You're safe at the beach, in the showers, or just taking a run in the rain. It also has built-in GPS tracking, so it's great for runners to track their training. Active folks who like to vary their workouts will appreciate that the band tracks
swimming, biking, and weights as well as gym workouts. SmartTrack automatically recognizes the activity and records the workout for you. The OLED tap display makes it easy to see real-time stats while you're exercising and get your workout results without syncing to your smartphone.
Other great features include tracking floors climbed, on wrist payments through Fitbit pay, and the ability to store and play music from Spotify, Deezer, or Pandora.
The Charge also has 24/7 continuous heart rate monitoring. It tracks your heart rate throughout the day to track your calories burned and also gives you a Cardio Fitness Score to help you improve your fitness level over time. Get even more info on your heart health with the on wrist ECG app. Thanks to the EDA scan app, your exercise tracker will also notice when your heart rate is elevated due to stress and lead you through a guided breathing exercise to help calm your mind and body.
In addition to all those fabulous features, the Fitbit Charge has many of the features longtime Fitbit users love like move reminders, smartphone notifications, wireless syncing to smartphones or computers, and interchangeable bands.
Available colors: Black/graphite stainless steel, lunar white/soft gold stainless steel, steel blue, platinum stainless steel (plus endless band options)
Tracks: steps, heart rate, GPS, distance, calories burned, active minutes, floors climbed, stationary time, auto sleep tracking
Notable features: interchangeable bands, PurePulse wrist-based heart rate, Cardio Fitness Score, silent alarms & auto sleep tracking, 7-day battery life, multi-sport modes, move reminders, SmartTrack auto activity tracking, OLED touchscreen with on-screen stats, guided breathing prompts based on heart rate, smartphone notifications, swimproof
Pros:
GPS means you can leave your phone at home
Store music for your run
7 day battery life

Cons:
No apps or smartwatch functionality

---
Garmin Vivofit Fitness Band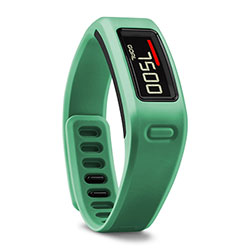 The Garmin Vivofit Fitness Band is a fitness tracker that is very popular among runners. It's water resistant and boasts a battery life of one-year, so this is a low maintenance tracker. This fitness band features a digital display of your step count and the current time. Use the personalized daily goals and the "Time to Move" reminders to live a healthier life and reach your fitness goals.
It can connect to an optional heart rate monitor chest strap to capture your heart rate, which automatically syncs with your smartphone.
The first Vivofit is only a water resistant fitness tracker. If you're looking for a waterproof version, check out the Garmin Vivofit 2 activity tracker, which is perfect for swimmers.
Available colors: black, blue, purple, slate, green
Tracks: steps, calories, sleep
Notable features: Year-long battery life, water-resistant, displays stats and time on band, Move Bar records idle time and inspires you to move, sets daily goals, optional heart rate strap
---