For most people, waterproof activity trackers don't matter because their main form of exercise is running or going to the gym. But if you enjoy aquatic activities like swimming, like to vary up your workout, or worry about accidentally killing your fitness tracker by dropping it in the sink or accidentally wearing it in the shower, you may want to consider how waterproof the activity tracker is.
Generally, fitness bands fall into one of three categories: lightly water resistant (able to withstand sweat, splash, and rain), highly water resistant (can be washed in the sink or worn in the shower), and fully waterproof (safe for swimming or any other water related activities).
Does it matter if I buy a water resistant or waterproof fitness tracker?
Whether you buy a waterproof fitness tracker really depends on your lifestyle and what types of exercise you do. The average person may not need to worry about this feature. But if you are concerned about how water will affect a fitness tracker you plan on wearing 24/7, it's a feature you should pay attention to as you research the best fitness band for you.
You may find it surprising that these tiny little bracelets, with advanced electrical and computer components, can actually be pretty sensitive to water. Unless the band is completely sealed off, they can be damaged easily.
For example, none of the Fitbit activity trackers are waterproof. They are water resistant, which means they are rainproof and splash proof, and no matter how sweaty you get during your workout, you will not harm your fitness band. But since Fitbits are not waterproof, you cannot shower in them or swim with them.
Some fitness trackers are more water resistant than others, meaning you can shower in them or get them wet when you're washing your hands or washing the dishes, but they shouldn't be submerged in water for swimming. Some trackers are water resistant enough to wear in the shower, but should not be submerged in liquids, so they can't be worn for surfing or swimming.
If swimming is your main form of exercise, you need to find a waterproof activity band or waterproof fitness watch to track your exercise (and a lot of them have cool features specific to swimming, like counting laps).
---
Should I buy a water resistant or waterproof fitness tracker?
If you're a swimmer, get a waterproof tracker. If you're a forgetful person who may not remember to remove your fitness tracker before you shower, get a more water-resistant band. For everyone else, get whatever model you want.
Here are a few fitness trackers you may want to consider in each category:
---
Sweat Proof and Splash Proof Fitness Band
Fitbit Charge (Check reviews and prices)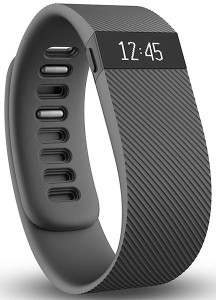 The Fitbit Charge combines the best features from the Fitbit One with the wristband format of the Fitbit Flex. The same great sleep tracking and silent alarm is still available, but it also includes an OLED screen that includes step count, the current time, and call notifications. When paired with your smartphone, it will display on your wrist who is calling so you don't have to dig your phone out of your pocket or purse if you don't want to answer.
It's advertised as water-resistant, but they really just mean sweat proof and splash proof, so don't take your Fitbit in the shower or the pool unless you want to brick it.
Available colors: black, slate
Tracks: steps, distance, calories burned, stairs climbed, active minutes, sleep quality and quantity
Notable features: OLED display for steps and time, call notifications, 7 to 10-day rechargeable battery, automatic sleep monitoring, silent alarm, syncs wirelessly to computers and smartphones, water resistant
Check out more water resistant activity trackers.
---
Water Resistant Activity Tracker You Can Shower With
Jawbone UP3 Activity, Heart, and Sleep Tracker
The Jawbone UP3 includes all the basic features of step counting, food and calorie tracking, and multiple exercise modes. It's also splash and showerproof, so if you forget to take it off when you shower or get caught in a thunderstorm on your afternoon run, you know your UP3 is safe.
It also features Advanced Sleep tracking. Using bioimpedance sensors, the UP3 uses your heart rate to track your sleep phases, including Wake, REM, Light Sleep, and Deep Sleep. This makes the Smart Alarm even more accurate.
If you're looking for heart rate monitoring, UP3 includes that as well. The same bioimpedance sensors track your resting heart rate and your passive heart rate to give a complete picture of your heart health.
Available colors: black twist, black/gold twist, indigo twist, ruby cross, sand twist, silver cross, teal cross, twilight cross
Tracks: activity, calories burned, sleep, heart rate
Notable features: Smart Coach, sleep tracking, Smart Alarm, Idle Alert (move alerts), automatic sleep detection and advanced sleep tracking, splash-proof and waterproof, LED indicator (notification and status), battery lasts up to 7 days, wireless syncing
---
Waterproof Fitness Tracker
Garmin Vivosmart 4 Fitness Band
The Garmin Vivosmart is the Vivofit's cousin, only it features a sleeker, higher end design with a more minimalist display integrated into the band itself. It measures calories burned, steps taken, distance, gives move reminders, and has great battery life. With a touchscreen display and integration with your smartphone, it's a fitness tracker worth considering if you're looking for a waterproof option that you can shower and swim with.
Available colors: black, blue, berry, slate, green
Tracks: steps, calories, distances, sleep
Notable features: Waterproof 5 ATM, touchscreen, smart notifications (calls, texts, emails), vibration alerts and move reminders, auto-syncs to mobile devices, time display, alarm clock
---
Not seeing what you're looking for. Check out more waterproof fitness trackers for swimming and waterproof fitness watches.
Remember: You shouldn't wear your fitness band 24/7. Your skin needs a chance to breathe and reset. Even if your tracker is waterproof, I would recommend taking it off when you shower so you can fully wash your wrist and arm and give it a little break.