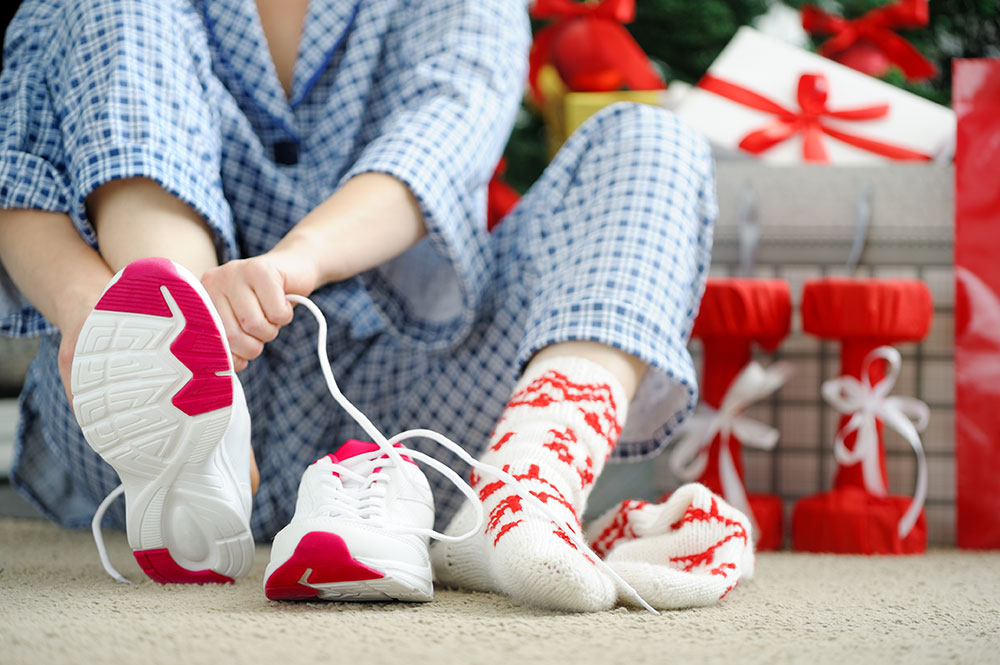 Running is more than just a way to exercise–it's a way of life. Whether the loved one you're shopping for just enjoys a daily jog or is training for their next marathon, there's plenty of fitness-themed gifts to help them with their goals. From fun and creative gifts to practical gifts that will help them best their mile time, these gifts for runners are perfect for Christmas, birthdays, and any other gift-giving occasion. Check out our gift ideas below.
Best Gifts for Runners
Bluetooth Running Headphones
Help your runner stay motivated and avoid boredom. With these Bluetooth headphones, they can listen to their marathon playlist or their favorite podcast during their daily run. These earbuds are completely wireless and sweatproof. They also feature on-ear controls so you can make calls while you run. Comfortable and lightweight, it's like they're not even there.
---
The Runner's World Cookbook
If your runner is a foodie or maybe looking for more ways to eat healthy at home, this is the perfect gift for them. The Runner's World Cookbook features 150 recipes developed especially for runners. These dishes focus on providing the fuel runners need to perform at their best while also staying slim and healthy. This is great if you're looking for practical gifts for runners that go beyond the obvious running gear.
---
Garmin Forerunner 935 with GPS
Runners love to track their stats as they improve their runtimes and meet distance goals. This Garmin Forerunner 935 is an excellent tracker for runners. It provides advanced dynamics for running, cycling, and swimming and gives data on ground contact, time balance, and stride length. This model also has wrist-based heart rate monitoring and GPS to track outdoor runs. If the runner you're shopping for doesn't already have a tracker, this is a great choice.
Check out more fitness trackers for runners.
---
Love Running Stacked Bracelet
Stacked bracelets are very trendy right now and this one is perfect for the runner in your life. With five bracelets made from genuine leather, and three charms: "LOVE," "RUNNING," and a sneaker dangle. This bracelet is fashionable and fun, perfect to wear to the office or on their daily run.
Available in 17 different color options.
---
PR SOLES Recovery Sandals
Running is hard on the feet, this gift is a way to give a little relief. These recovery sandals are designed to help heal sore and tired feet and are meant to be worn before or after a run. The Acupoint soles activate nerve endings in the foot to massage the tissue and improve circulation. Just slip them on and tired feet, legs, and back will soon feel better. This is one of the gifts for runners that can be appreciated by anyone who spends a lot of time on their feet.
---
Runner's Wine Glass
This is the perfect present for those runners who appreciate a good glass of wine to celebrate hitting their daily running goal. This wine glass has measurements engraved on the side. Instead of marking off ounces or milliliters, it measures off run lengths, including 5k, 10k, half marathon, and full marathon. This is a fun gift for any runner.
Made in the USA. Available with or without a stem. Also comes as a beer pint glass.
---
World's Okayest Runner Tank Top
This is the perfect gift for that reluctant runner who enjoys a nice jog but isn't into marathon training. This tank top proclaims "World's Okayest Runner." This a fun gift, perfect for Secret Santa or to tease the runner in your life.
Available in fit or flowy tanks in a variety of colors and sizes.
Check out more funny shirts for runners.
---
Runner's Daily Desk Calendar
Give a year of inspiration with this desk calendar. Most gifts for runners focus on the physical task of running, but a lot of the challenge of being a consistent runner is mental. You need to keep going each day, even running in cold weather or the rain or when you don't feel that great. This Run 365 Desk Calendar is a great way to deliver daily motivation, with inspirational quotes and beautiful images. Plus you can track your progress each day as you tear them off.
---
Trainer Tags
This is another gift that's great to deliver inspiration and motivation for runners. These trainer tags are meant to go on your shoelaces. It's like jewelry for your sneakers. This pair says "She believed she could.." and "..So she did." This is a cute gift to give to any woman who loves to run.
---
Running Belt
This money belt is perfect for all occasions, but it's especially good for runners. Often your running gear doesn't have pockets to store all the essentials like your keys, ID, or cell phone. This hip belt solves that. It easily buckles onto your waist and you can slip all of your essentials inside and have your hands free to run. This is a great gift for runners that will revolutionize their workout.
---
Best Runner In The Galaxy Mug
Is the runner you're shopping for a Star Wars fan? Then this is the perfect gift for them. This 11 oz. ceramic mug has text in the famous Star Wars font that says "Best Runner in the Galaxy." This is great for enjoying hot drinks at the office or around the house. Plus it's dishwasher safe.
Include some of their favorite tea or coffee to create a gift they'll really appreciate.
---
Hand Held Runner's Bottle
While a mug is a great gift, it's not practical for running. But this water bottle from SLS3 is great to stay hydrated during outdoor runs. This 10 oz. bottle is ergonomically shaped and comes with a strap to keep it easily in hand. It also includes a pocket to store essentials like keys or credit cards. This is a great gift for runners that is perfectly sized to be a stocking stuffer.
Check out more handheld water bottles for running.
---
Running Because It's Cheaper Than Therapy Tote Bag
Tote bags are an essential gift because they can be used for anything from lugging gym gear to carrying groceries. This tote bag is perfect if you're putting together a runner gift bag or as a nice gag gift they'll get some use out of.
---
Gordini Stash Lite Touch Running Mitts
Finding the motivation to run can be tricky, especially after the weather turns colder. While running indoors on a treadmill is an option, some runners prefer to keep up their outdoor routine. To help them stay toasty warm while they run, give them a set of running mitts. These mittens from Gordini are a perfect choice. They feature Insilk insulation to keep hands warm and a hydrowick lining for breathability. The fingertips are also touchscreen compatible so they can still use their smartphone as they run. These gloves make a great holiday gift.
Check out more running mitts or these touchscreen running gloves.
---
New York Marathon Personalized Running Map
This is a great gift to memorialize a great achievement. If your giftee has run the New York Marathon, you can have this map personalized with their name, the date, and their marathon time. Perfect for framing, this is a great gift to honor their hard work and reaching their goal.
---
Runner Medal and Bib Display
This is a great gift for any runner who loves marathons. This handpainted sign says "Races" at the top and includes two clips to hold marathon bibs and 9 hooks to hold medals. This is great to display anywhere in the home with 12 different color options to match any decor.
---
Hands-Free Dog Leash for Runners
This is the perfect gift for the dog-loving runner in your life. There's nothing better than a nice jog with their favorite pooch, but holding a leash while running can be difficult and inconvenient. This hands-free dog leash is a great alternative. It affixes around the runner's waist and had a bungee leash that expands to give extra space while you run.
---
Inspirational Athletic Running Socks
Socks are a cliche gift for runners, but these pairs take it to the next level. Coming in a set of three pairs, each sock features inspirational phrases on the sole like "You are awesome" and "Never Never Give Up." There's a variety of color options and messages to choose from for general motivation or specific motivation for marathoners.
---
Trigger Point Mini Grid Foam Rollers
Foam rollers are an essential self-care tool for runners. But most runners do not have one of these. This mini foam roller from Trigger Point Performance provides the same benefits as a full-size foam roller in a compact and portable version. This is great for tossing in a gym bag or a suitcase to use anywhere they want to get a run in.
---
remodeez Footwear Deoderizer
Any runner knows that their favorite sneakers can get a little smelly after a lot of use. These deodorizers are a great option to get rid of the stink. They're made with activated charcoal which eliminates odor and absorbs moisture. With no toxic chemicals, they're a great natural option to deal with moisture and odor.
---
Still seraching for the perfect gift? Check out gifts for fitness lovers and health nuts.
Check out the best fitness trackers for runners.