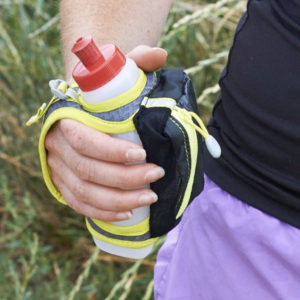 Whether you're running long distances or keeping up your regular running routine on a hot summer day, you need to stay hydrated. There are lots of water bottle options available for runners on the market. If you're looking for a classic and easy way to carry and access your water, you may be interested in a handheld water bottle.
These water bottles are specially designed for runners (and walkers) to be comfortable to hold while you're running. They come in a variety of sizes and colors, so you can easily find one that works best with your workout.
Reebok Running Water Bottle
If you're looking for a basic water bottle that's easy to hold in your hand while you run, try this Reebok running water bottle. It's very affordable with an ergonomic O shaped design allowing for a comfortable grip while you're running.
This plastic water bottle is BPA free and has an anti-drip sports lock cap, so you don't have to worry about it leaking while you run. The bottle is see-through so you can see if you're running low on water.
Bottle Size: 300 ml
Available colors: white/clear
---
Fuelbelt Slice Insulated Palm Holder Water Bottle
If you want to keep your water cool while you run, this insulated handheld water bottle from Fueltbelt is perfect. The water bottle comes with a holder made of water-resistant ripstop material and an insulating neoprene sleeve to keep your bottle cold. The holder has a padded strap to keep your hand comfortable and help you keep your grip as you run. There's also a zipper pocket to hold money, keys, or even your iPhone.
The water bottle is dishwasher safe and BPA free.
Bottle Size: 18 oz.
Available colors: black
---
Nathan Quickdraw Plus Handheld Bottle Carrier
If you're looking for more color options to match your running gear, check out these handheld bottle carriers from Nathan. Popular among runners, this easy squeeze bottle has a leak free, soft-sip, push-pull cap. It comes in a bottle carrier with an adjustable hand hold so you can get the perfect fit and a thumb hold so you can keep a grip on it as you run.
The water bottle is made of BPA-free plastic.
Bottle Size: 22 oz. (a smaller 9 oz. version is also available)
Available colors: black, imperial purple, Nathan blue, Gecko green, cabaret, blue, teal
---
Ultimate Direction Fastdraw 10 Hand-Held Bottle
Ultimate Direction put the runner's comfort in mind when they designed this handheld water bottle. The ergonomically shaped water bottle comes with a hold with a lot of great features. It includes an easy access pocket for storing money or keys. It also has an adjustable hand strap made of Cool Wick Air Mesh, so the bottle is comfortable to wear no matter how sweaty you get.
Bottle Size: 10 oz. bottle (a 20 oz. version is available)
Available colors: acid, black, true blue, teal
---
Amphipod Hydraform Jett-Lite Thermal HandHeld Hydration
The minimalist design of this handheld water bottle from Amphipod is sleek and modern. The bottle holder is a breathable thermal sleeve that is hand washable. The water bottle has an ergonomic design to prevent hand cramping. The cushioned hand strap is adjustable for a comfortable grip. The holder also features an expandable zippered pocket where you can store your phone or your keys while you run. The Jett-Squeeze cap allows for quick hydration so you aren't slowed down.
Bottle Size: 20 oz. (a 16 oz. version is also available)
Available colors: gray, hi viz, swift blue, raspberry
---
Get more information about your run with a fitness tracker for runners. Track distance, calories burned, and time with the perfect activity tracker.
If you don't think handheld water bottles will work with your running routine, check out these water belts for running.
As well as staying hydrated, check out these tips to stay cool when running in hot summer weather.
If you run in cool or inclimate weather, check out these touchscreen running gloves.