If you run outdoors for long distances, you're probably interested in a water belt for running. Sometimes called hydration belts, these items are similar to runner belts with pockets and straps but with the bonus feature of water storage. Some people describe them as a waist pack with a water bottle holder. You need to stay hydrated when you run, especially in hot weather. If you don't like using a handheld water bottle, then a water belt is a great solution.
Hydration belts keep water close at hand while also carrying other essentials like your smartphone, keys, or ID. When shopping for a runner's water belt, you should consider water capacity, fit, style, and also storage availability. We've rounded up five of the best hydration belts below.
↓Click here to jump to our comparison chart.
---
Best Water Belt for Running
Camden Gear Hydration Running Belt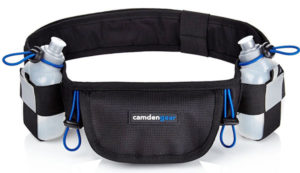 This hydration belt from Camden Gear is perfect for runners. It comes with 2 leak proof 12 oz. water bottles to keep you refreshed and hydrated while running. It's adjustable up to a 47″ waist with an easy to use velcro strap that helps it sit perfectly on your waist. Silver reflectors are stitched to the belt, keeping you visible when running in low light situations.
If you're looking for storage, this water belt has it. There's a large pocket that will fit most larger smartphones, including iPhones 6+ and the Samsung Galaxy S5, with plenty of space left over for your keys, credit cards, or ID. If you use gel packs while you run, the 4 elastic straps keep them easily at hand.
Available colors: black
Amount of Water: 24 oz. total (two 12 oz. bottles)
Size: up to 47″
---
---
Fuelbelt R3O Revenge Hydration Belt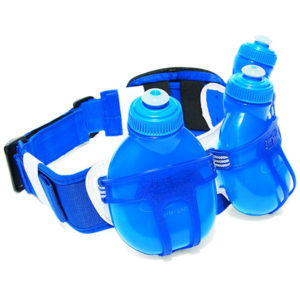 If you're looking for a vibrant and fun hydration belt, check out R30 Revenge from Fuelbelt. This water belt for running comes in traditional black, but 3 more bright color combinations. This belt comes with an adjustable waistband to find the perfect fit to prevent bouncing. The water bottle holster design makes it easy to access the three 7 oz. bottles while running so you don't miss a step.
If you're looking for extra storage, the belt comes with a removable zipper pouch to store gels, keys, and smaller sized smartphones. With so many colors options and an ingenious design, the R30 Revenge is a great running water bottle belt.
Available colors: black, pink/yellow, royal blue/white, green/blue
Amount of water: 21 oz (three 7 oz. bottles)
Size: adjustable one size
---
Nathan Trail Mix Hydration Belt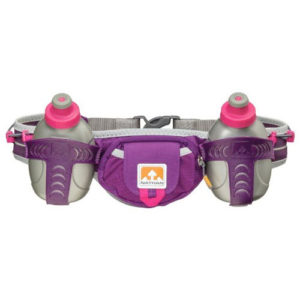 Nathan has redesigned their Trail Mix Hydration Belt, to be 15% lighter, making it a great contender if you're looking for a water belt for running. The belt holds two bottles and has lots of extra storage. The belt includes an external stretch mesh pocket and a zippered pocket so you can easily carry your phone, keys, snacks, and more securely on your belt. There's also two shock cords for securing your running gloves or jacket.
The tension molded bottle holsters make it easy to grab your water bottles and hydrate while you're running, and also hold them firmly in place so the belt doesn't jiggle or bounce as you run. The belt is fully adjustable for a perfect fit.
Available colors: black, imperial purple, Nathan blue, Andean toucan, sparkling cosmo, gecko green
Amount of water: 20 oz. (two 10 oz. bottles)
Size: 26-44″
---
Fitletic 16-ounce Hydration Belt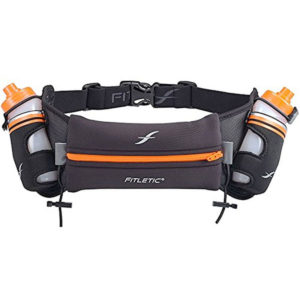 Many Amazon reviewers say this is the best hydration belt for running. This belt from Fitletic, comes with two quick draw holsters and specially fit 8 oz. water bottles that are dishwasher safe and BPA free. The Fitletic belt features Dura-Comfort Technology which means the belt won't bounce or chafe as you run.
Wondering about the storage? This upgraded version of the belt features a larger storage pouch, so in addition to your keys and gel packs, you can also fit larger smartphones like the iPhone 6 Plus and the Samsung Galaxy S5. This hydration belt is used by marathoners and Olympians.
Available colors: black, black/green, black/pink, black/purple, black/blue, black/gray, black/red, black/yellow, black/orange, black/lime,
Amount of water: 16 oz. (two 8 oz. bottles)
Size: S/M 24 – 34″, L/XL 35 – 42″
---
Sunhiker Waist Bag Water Belt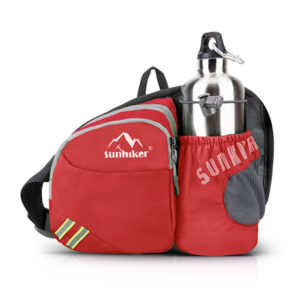 If you're looking for a more versatile water belt for running, consider this bag from Sunhiker. It can be used for running, hiking, cycling and camping. Wear it comfortable over your shoulder or across your waist for running. The pack is made from waterproof nylon so it's safe to use in the rain or other outdoor conditions.
The storage pack has two zipper compartments to easily carry your phone, wallet, keys, snacks, and anything else you may need. One thing to note is that a water bottle is not included, but it will comfortably hold your favorite water bottle.
Available colors: red, hot pink, green, blue, orange, yellow, purple
Size: Adjustable one size
---
Experts recommend you drink water before you run. Once you're out pounding the pavement, try drinking three to six ounces of water every 15 minutes. Wearing a runner's hydration belt makes it easy to consistently drink without slowing your pace. They're also helpful if you're running in areas where there are no water fountains available.
Don't forget after you're done with your run to continue hydrating! Choose water or sports drinks, but avoid sugary drinks like soda and juice which won't actually help you hydrate properly. With proper hydration and regular running, you will be healthier and happier.
If you don't think a hydration water bottle belt will work for you, check out these handheld water bottles for runners. Track your running and progress with one of these fitness trackers for runners.
As well as staying hydrated, check out these tips to stay cool when running in hot summer weather.
Planning to run in cooler weather? Check out these touchscreen running gloves to keep your hands dry and warm.
---