Last year was a great year for fitness trackers, with new models being introduced by different companies each month. Here are some of the most popular types of fitness activity trackers on the market.
Fitbit One Wireless Activity Plus Sleep Tracker (Check reviews & prices on Amazon
)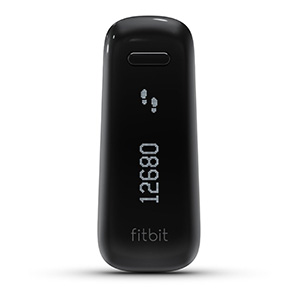 The Fitbit One is perhaps the top selling fitness tracker on the market today. It's styled like a traditional pedometer, albeit one for the 21st Century. The Fitbit One clips discreetly on to your belt or the inside of your pocket, and keeps track of how many steps you've walked (or stairs you've climbed) and the corresponding number of calories you've burnt while doing it. The Fitbit One also monitors your sleep and can sync data with optional iPhone and Android apps, or your data dashboard on the Fitbit website. One neat feature of this device is it syncs wirelessly via Bluetooth to your phone or computer. Their website also allows you to compete with friends over the course of the day (who can walk the most number of steps?) making staying active during your day into a competition.
---
---
Fitbit Charge Wireless Activity Wristband (Check reviews & prices on Amazon
)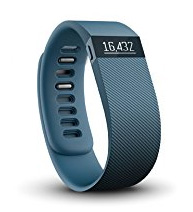 Another best-seller in Fitbit's line of fitness trackers is the Charge Wireless Activity Wristband. As you might guess, it has all the features of the Fitbit One, only it's in a wrist band form-factor, which makes it super easy to check during the day. Like the Fitbit One, it counts your steps, distance walked (or run) and distance throughout the day. It also has a couple neat features thrown into the mix like a caller ID function that allows you to see who is calling your cell phone before you even take it out of your pocket. See also the Fitbit Flex 2 version which has no display, but is cheaper and waterproof.
---
Jawbone Up 24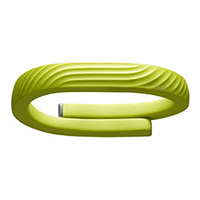 The Jawbone Up 24 is a super popular fitness activity tracker with a very modern design. It features a super compact build and comes in three sizes, depending on how large your wrist is.
Like the other most popular fitness trackers, the Up 24 can track your steps, the hours you slept, and the calories you burn over a day. Unlike many other fitness trackers though, the Up 24 also comes in a variety of colors– not just black.
---
Misfit Shine Activity and Sleep Monitor (Check reviews & prices on Amazon
)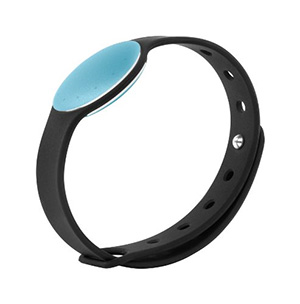 The Misfit Shine looks an awful lot like a normal watch. So much so, that most people won't even notice that it doesn't have a screen. The Misfit is one of the most popular fitness trackers on the market today partly because unlike many of its competitors, it is fully waterproof. You won't need to take it off before you hop in the pool for some laps– which is a huge advantage because you can now include your swimming as part of your workouts. The Misfit Shine also syncs with your smartphone and comes in a variety of colors.
---
Samsung Gear 2 Smartwatch (Check reviews & prices on Amazon
)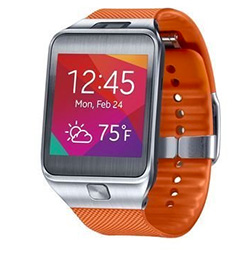 The Samsung Gear 2 Smartwatch has a ton of different features, and one of those is what they call its "personalized fitness motivator." Using sensors built into the watch, the Gear 2 features a pedometer and a heart rate tracker, which can help you set goals and monitor your progress. The Gear 2 is one of the few fitness tracker devices on the market today that features a color screen. And, of course, it's a lot more than just a fitness tracker: it also integrates with your phone, takes pictures with its built in camera and does all sorts of other things.
---
---