Step counters are all the rage now in the fitness community. A lot of fitness bands are cool but look utilitarian or don't even tell the time, so you have to wear the activity tracker and a watch at the same time. Luckily there are plenty of watches that count your steps that are attractive and functional.
If you're looking for a simple traditional watch, there are a few options. There are also really awesome smartwatches that give you options of fitness apps and other cool features. No matter what you're looking for or what your style is you, you can find a step counter watch that will work for you.
Check out some of our favorites below:
5 Best Watches That Count Your Steps
Withings Move Hybrid Smartwatch
The Activite Pop is a watch that counts your steps. Its simplistic design is modern and functional. The watch face tells time and also features a dial tracker to show you how close you are to reaching your daily activity goal. If you want more in-depth tracking, you can sync the watch with your smartphone for detailed data on running or walking distance, and sleep data.
The Activite Pop is waterproof so you can wear it while you swim or shower without damage. It also has automatic run detection, so it's perfect for runners who want a discrete fitness tracker they can also wear to the office.
Available colors: black, sand, azure, pink (customizable with additional wristbands)
Tracks: steps, distance, running, calories burned, sleep cycle, steps taken
Notable features: silent alarm, sleep cycle analysis, 8 month battery life, automatic run detection, water resistant to 150 feet
---
Motorola Moto 360 Smartwatch

The Motorola Moto 360 is a smartwatch for Android users. It features all the great smartwatch features you'd expect, plus activity tracking capabilities. If you want the time, it just takes a glance at the watch face, which also displays notifications.
For activity tracking, there's Moto Body that inspires you to be healthier by coaching you to meet your fitness goals. There are some limitations to the app though, as it doesn't have sleep or exercise tracking. If you're looking for a step counter and something compatible with Android devices, this watch is a good choice.
Available colors: champagne, champagne metal, black, cognac leather, dark metal, light metal, natural metal, stone gray
Tracks: steps, calories burned, heart rate
Notable features: Andoird 4.3+ phone compatible, voice commands,
---
Fitbit Blaze Smart Fitness Watch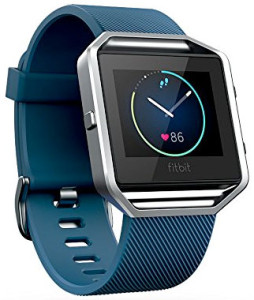 The Fitbit Blaze is a smartwatch made by Fitbit. Because they make some of the best fitness trackers around, you know this is a smartwatch with a fitness focus. In addition to checking the time, you can use the Blaze to track your steps, floors climbed, and your active minutes.
If you're a runner, it also has PurePulse Heart Rate monitoring, and the ability to connect with GPS on your phone to map your routes and see in-depth stats like pace and duration. It also features a new app called Fitstar, which has on-screen workouts with step-by-step instructions. Blaze basically works like a trainer and a personal health coach.
Blaze features the Smarttrack exercise recognizer and multiple sport modes so you can log activities like running, biking, and cardio while seeing real-time stats on display.
Like most smartwatches, you can customize your bands to match your outfits and also receive call, text, and calendar alerts. It features music control for your smartphone (volume, play, pause, switch songs). But, it also features sleep tracking and silent alarms, a feature not currently offered with Apple Watches.
Available colors: black/siver, blue/slver, plum/silver
Tracks: steps, distance, calories burned, floors climbed, active minutes, heart rate, multi-sport tracking
Notable features: connected GPS (requires smartphone), interchangeable accessory bands, auto workout recording, on-screen workouts, smart notifications (call, text, and calendar), music control (with smartphone), auto-sleep tracking, silent alarms, up to 5-day rechargeable battery
---
Apple Watch Sport

The Apple Watch is one of the hottest smartwatches on the market right now. A lot of people forget it is also a fitness watch as it has advanced activity, step, and heart rate monitoring features. It's also fully customizable with different sizes, colors, and a number of different bands to create the perfect look for any outfit.
The smartwatch factor is off the charts with the Apple Watch. It tells time, with many different customizable watch faces, but also counts your steps. The fitness tracking includes move and exercise goals and also a Workout App to track specific types of exercises.
Available colors: aluminum case (space gray, silver aluminum, gold aluminum, rose gold aluminum) or stainless steel case (stainless steel or space black stainless steel)
Tracks: steps, heart rate, exercise, and so much more
Notable features: 18 hour battery life, Retina display with Force Touch, swappable bands, call, text, and other iPhone notifications, App store
---