We've come a long way from simple pedometers. These days fitness trackers can track a lot more than just how many steps you take in a day: a new class of fitness trackers is meant to be worn 24/7, even while you're sleeping. These specialized new fitness trackers can measure your sleep patterns to determine whether you're getting enough rest. Some even wake you up at specific times. Here are some of the best fitness trackers with sleep monitors available today:
Fitbit One Activity Plus Sleep Monitor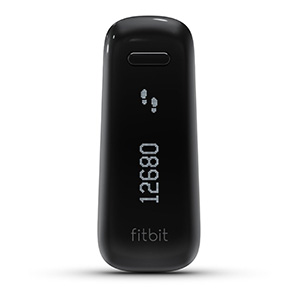 The Fitbit One is has a traditional pedometer form factor and measures both your activity during the day, and also your sleep patterns when you go to bed.
When you insert your Fitbit one into its sleep band accessory at night (which is worn around your wrist), the Fitbit will track the number of times you wake up and synthesize this information into a "sleep quality score." It also features a silent alarm that can wake you up, but not your partner, by vibrating quietly.
Available colors: black, burgundy
Tracks: steps, floors climbed/stairs, distance, calories burned, active minutes, sleep quantity and quality
Notable features: silent alarm, sleep tracking, stair counter, water resistant clip, 14 days rechargeable battery, syncs wirelessly to computers and smartphones
---
---
Misfit Wearables Shine 2 Waterproof Activity Tracker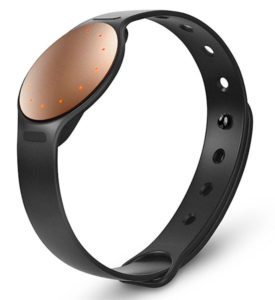 The Misfit Shine 2 is another great fitness tracker that provides a well rounded tracking system. It automatically tracks all modes of your life: running, swimming, sleeping. The Sleep tracking helps you make the most of your nights, so you're ready to hit the ground running the next day. The sleep tracking is automatic and new features include a silent alarm, and vibration notifications for text messages and calls when paired with your smartphone.
This is a tough little tracker, it's made from aircraft grade aluminum and glass-reinforced polycarbonate, which makes it waterproof up to 50 meters. It's also completely interchangeable with other wristbands, clips ons, or jewelry, so you can wear it wherever and however you want to. The minimalist design makes it match any outfit or occasion so you can truly wear it 24/7.
Available colors: carbon black, rose gold (other third party replacement bands are available)
Tracks: steps, calories burned, distance, activity types, sleep quality and duration
Notable features: water resistant up to 50 meters, interchangeable bands, vibration alarm for text and call alerts, move reminders, 6 month replaceable battery
---
Runtastic Orbit 24 Hour Activity (Fitness 7 Sleep Tracker)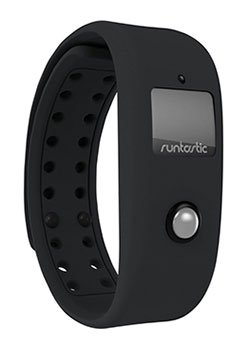 We're not going to lie. Runtastic is kind of a ridiculous name for anything, but don't let that put you off. The Runtastic Orbit 24 fitness and sleep tracker monitors your daily activities (not just running), with special attention paid to your sleep duration and cycles.
You have to initiate sleep mode when you go to bed, but after that, the Orbit 24 will collect data and analyze it to give you a more consistent sleep schedule. Like other leading fitness trackers with sleep monitors, the Runtastic Orbit 24 connects to iPhone or Android apps to display data. The tracker comes with two wristbands (blue and black) and also a black clip, so you can wear it any way you like.
Tracks: steps, active minutes, calories burned, sleep cycles
Notable features: OLED display, time and alarm, waterproof up to 300 feet, clip or wristbands included, 5-7 day battery life
---
Garmin Vivofit 3 Activity and Sleep Tracker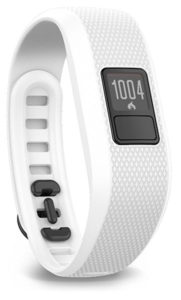 The newest offering from the Garmin Vivofit line is an amazing and well-rounded activity tracker. It features Move IQ, which automatically detects what activity you're doing and records accordingly. When you sync to the Garmin Connect app it helps you set goals and improve your performance over time.
As far as sleep tracking goes, this activity tracker automatically switches to sleep mode when you go to bed. This tracker does lack any vibrating alarms, so if you want that feature you should consider the Jawbone UP3
Another big plus for the Viviofit 3 is the band is waterproof, so you can shower and swim with it on. This fitness band also features basic features like time and step count display on the band. The band is meant to be worn comfortably 24/7, from the gym to the shower and to bed. Add in the year-long battery life and it's hard not to be impressed by this fitness tracker.
Available colors: black, white (additional colored accessory bands available)
Tracks: steps, calories, distance, intensity minutes, sleep, inactivity
Notable features: 1 year battery life, silicone band, water resistant 5 ATM, auto activity detection, move bar and move reminders, displays time of day, personalized daily goals, Garmin Connect app
---
---