Runners often find wrist-worn fitness activity trackers to be a useful gadget because of how light and easy to use they are on a run. Fitness trackers for running typically track the number of steps taken, distance traveled, and chart this information on an iPhone or Android app, or sync with a website dashboard to track your running goals. Here are some of the
most popular fitness trackers for runners:
TomTom Runner GPS Watch (Check reviews & prices on Amazon
)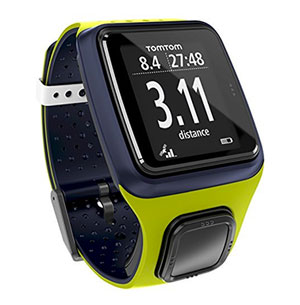 The TomTom Runner GPS Watch is a specialized fitness tracker for runners that offers several benefits. It's meant both for treadmill and outdoor running and has different modes for both. It also syncs with popular online running community websites like MapMyFitness, RunKeeper and TrainingPeaks. The TomTom Runner GPS Watch will measures distance run, pace, and run time information and also comes in a variety of colors. It also offers easy-to-navigate menus so you can adjust settings without having to pause your run.
---
---
Runtastic Orbit 24 Hour Activity (Fitness & Sleep Tracker) (Check reviews & prices on Amazon
)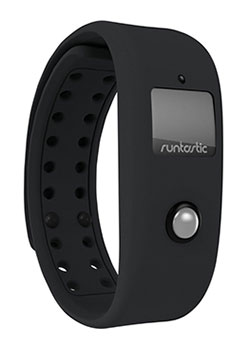 We're not going to lie. Runtastic is kind of a ridiculous name for anything, but don't let that put you off. The Runtastic Orbit 24 fitness and sleep tracker monitors your daily activities (not just running), with special attention paid to your sleep duration and cycles.
The Runtastic Orbit 24 also has an app for iPhone and most Android models to keep track of the number of steps you take, and your calories burned, your active minutes during a workout and, of course, your distance travelled. All of this data syncs with your smartphone which can help you track your running goals and help motivate you.
---
Garmin Vivofit Fitness Band (Check reviews & prices on Amazon
)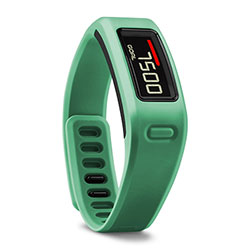 The Garmin Vivofit Fitness band is a fitness tracker that is very popular among runners these days. It can connect to an optional heart rate monitor chest strap
to collect even more data about your running workouts. It's also water resistant and syncs with your smartphone to analyze data. One major feature of the Garmin Vivofit is that it has exceptionally good battery life– better than most other fitness trackers for runners on the market (up to a year on a single charge, which is incredible when you consider that some other devices last for only a day or two!).
---
LifeTrak C200 Core (Check reviews & prices on Amazon
)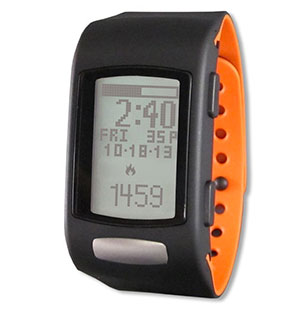 The Lifetrak C200 Core is a popular cheap fitness tracker for runners. It features a black and white screen with a goal progress bar, and a pedometer that recognizes the difference between steps you take when you're walking versus when you're running.
This model saves money by not connecting to any smartphone apps or websites. Like some other affordable fitness trackers for runners, you'll want to check if the prices vary depending on which color model you choose, because at the time of this writing they do.
---
New Balance Cardio Watch (Check reviews & prices on Amazon
)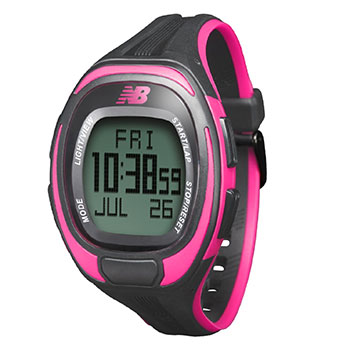 New Balance Cardio Watch looks an awful lot like a normal sport watch, but don't let that fool you. It reality, it's one of the cheapest high quality fitness trackers for runners available today. It can track your steps taken, speed, pace, calories burned and syncs with your smartphone.
It even includes a Bluetooth connectivity to an optional chest-worn heart rate monitor. The New Balance Cardio Watch comes in both pink and black.
---
Misfit Shine Activity and Sleep Monitor (Check reviews & prices on Amazon
)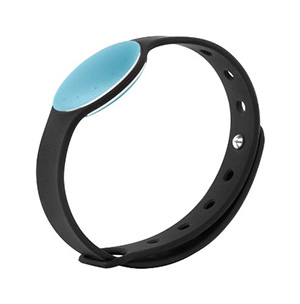 The Misfit Shine is a fitness tracker for runners that syncs with many popular smartphone apps for runners like LoseIt!, Runkeeper, MapMyFitness, MyFitnessPal and IFTTT. This handy little device also has another feature that differentiates itself from many competitors: it has separate modes for running, swimming, cycling and walking, because it's smart enough to measure these activities differently (each one burns a different number of calories, for instance). So your running workouts won't be measured against walking the same distance, or the same number of steps, like some other fitness trackers do.
---
Stay hydrated while running with these convenient
handheld water bottles for running
. Or go handsfree with these
hydration belts for running
.
---
---