So you want to track your steps and exercise, but you're not interested in a utilitarian looking fitness band, sports watch, or gaudy pedometer. As activity trackers become more popular there are newer, more fashionable options available for women or men who want something nicer looking. There are many workout bracelets that make an attractive accessory as well.
With these fashionable fitness bands, you can keep track of your health at work, parties, or just out on the town. You're also not limited to workout bracelets or wristbands. There are necklaces and clips as well. A lot of these exercise bracelets and watches work for both men and women. Check them out below and see if you can find a tracker to match your style.
Jawbone UP3 Activity, Heart, and Sleep Tracker

The current line of Jawbone fitness bracelets are all some of the more attractive ones on the market, but the Jawbone UP3 is the classiest version, and was picked as one of Oprah's Favorite Things. The UP3 has all the standard features you'd expect from Jawbone, including Smart Coach, a water-resistant band you can shower with, and standard step and activity tracking.
Some of the newer features include Advanced Sleep tracking. Using bioimpedance sensors, the UP3 uses your heart rate to track your sleep phrases, including Wake, REM, Light Sleep, and Deep Sleep. This makes the Smart Alarm even more accurate. The other new feature is Heart Health monitoring. The same bioimpedance sensors track your resting heart rate and your passive heart rate to give a complete picture of your heart health.
With 7 different colors and 2 different designs, you'll be sure to find an UP3 to match your personal style.
Available colors: black twist, black/gold twist, indigo twist, ruby cross, sand twist, silver cross, teal cross, twilight cross
Tracks: steps, activity, calories burned, sleep, heart rate
Notable features: Smart Coach, sleep tracking, Smart Alarm, Idle Alert (move alerts), automatic sleep detection and advanced sleep tracking, splash proof, LED indicator (notification and status), battery lasts up to 7 days, wireless syncing
---
---
Mira Wellness and Activity Bracelet

The Mira Fitness Bracelet is more than just a gorgeous activity tracker, it's a flexible one as well. It can be worn in its stainless steel bracelet, clipped to your clothing, or just put in your pocket and it will track your steps.
Mira not only tracks your steps, but you can enter in other exercises to be tracked with the app. This workout bracelet is designed specifically for women, which means that data analysis and Boost tips are targeted for you. This smart jewelry will compliment your style and inspire you to live a healthier life.
Available colors: brushed gold, midnight purple
Tracks: steps, calories, distance, elevation
Notable features: 5 day rechargeable battery, wear as bracelet or clip, Mira smartphone app, OLED display, current time display
---
Misfit Shine 2 Necklace Activity Tracker

The Misfit Shine 2 generally comes with a wristband, but with optional accessories you can turn it into a stylish pendant necklace. There's two styles available: a simple pendant necklace and the bloom style. (Note: you have to buy the tracker seperately.)
The Shine 2 automatically tracks all modes of your life: running, swimming, sleeping. The Sleep tracking helps you make the most of your nights, so you're ready to hit the ground running the next day. Hit the pool with confidence as this waterproof tracker will record your swimming activity. The minimalist design means it matches any outfit or occasion so you can truly wear it 24/7.
Available colors: carbon black, rose gold (other third party replacement bands are available)
Tracks: steps, calories burned, distance, activity types, sleep quality and duration
Notable features: water resistant up to 50 meters, interchangeable bands, vibration alarm for text and call alerts, move reminders, 6 month replaceable battery
---
Withings Activite Pop Activity and Sleep Tracking Watch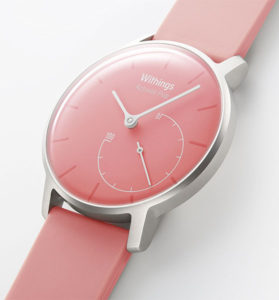 If you're looking for a fitness tracker that actually looks like a traditional watch, the Withings Activite line will suit you. This is a well-rounded fitness watch that's meant to track steps and sleep. It has automatic run detection, so it's perfect for runners who want a discrete fitness tracker.
The watch face tells time and also features a dial tracker to show you how close you are to reaching your daily activity goal. Sync with your smartphone to get detailed data on running or walking distance, and sleep data. It's also waterproof so you can wear it while you swim or shower without damage.
Available colors: black, sand, azure, pink (customizable with additional wristbands)
Tracks: steps, distance, running, calories burned, sleep cycle, steps taken
Notable features: silent alarm, sleep cycle analysis, 8 month battery life, automatic run detection, water resistant to 150 feet
---
Bellabeat LEAF Activity Tracker

Made specifically for women, the LEAF tracker has some awesome features you don't usually see in activity trackers. Sure it tracks your activity and your sleep, but it also monitors your breathing. Using guided breathing exercises, the leaf helps you relieve stress and fall asleep easier. It also tracks your monthly cycle and reproductive health.
Use the smart alarm to wake you in the morning or as a reminder to take your birth control pill. To make this tracker even better, LEAF is a gorgeous clip on device that looks like a leaf and has the appearance of fine jewelry with wooden housing instead of cheap plastic found on most trackers. Buy optional accessories to wear it as a bracelet or a necklace.
Available colors: blackwood/rose gold, white/silver
Tracks: activity, breathing, sleep, period and ovulation, calories burned
Notable features: smart alarm, tracks breathing to relieve stress, sleep tracking, LEAF app, 6 month battery life
---
Apple Watch Sport

The Apple Watch is one of the hottest smartwatches on the market right now. A lot of people forget it is also a fitness watch as it has advanced activity, step, and heart rate monitoring features. It's also fully customizable with different sizes, colors, and a number of different bands to create the perfect look for any outfit.
The smartwatch factor is off the charts with the Apple Watch. We're only going to focus on the fitness and health apps (because there's hundreds more), but it comes with a few that rival other fitness bands. The Activity App helps you achieve 3 daily fitness goals: standing, moving, and exercise. The Workout App allows you to track specific types of exercises by utilizing specific sensors based on the workout type you select. Apple also has health apps to track your heart rate and other stats.
The downsides with the Apple Watch is that there are not currently sleep tracking capabilities and it is not water resistant. Beyond that, the endless apps, and nearly limitless band choices make this a cool and fashionable choice for an activity tracker.
Available colors: aluminum case (space gray, silver aluminum, gold aluminum, rose gold aluminum) or stainless steel case (stainless steel or space black stainless steel)
Tracks: steps, heart rate, exercise, and so much more
Notable features: 18 hour battery life, Retina display with Force Touch, swappable bands, call, text, and other iPhone notifications, App store, compatible with Kiqplan
---
---