Thanks to modern technology, it's easier than ever to keep track of and communicate with your children. But some kids are a little too young for their first cell phone. GPS tracking watches are a great alternative. They allow you to track your child's location and some even feature message and voice calling exclusively between you and your kid.
There are also GPS clips available, which help you keep track of your kids with a subtle clip-on monitoring device. While new watches should be introduced to the market in the future, at the time of this writing, most of the best GPS tracking devices for kids are clip ons. You should take into consideration your needs and your child's personality when you decide between a kids GPS watch and another type of GPS tracker.
Tracking Clip Ons and Kids GPS Watches
hereO Child GPS Watch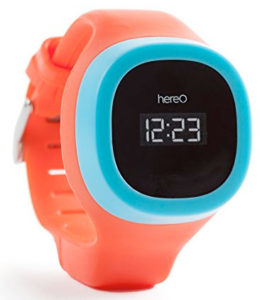 Currently the hereO is the best kids GPS tracking watch on the market. It looks like a normal watch, but features special location abilities so you can track your child anytime, anywhere. It uses real time cellular connected GPS technology to track your child with real-time tracking and trail logging. You can also set up location alerts, so you know when your child reaches a specific place like school or a friend's house.
The watch pairs with a smartphone app that includes features like real-time locations on a map, to proximity breach alerts, location history, and more. Each watch can sync to more than one app, so both parents can keep tabs on the kids. If you're worried about communication, it has those features as well. The kids can send a Panic Alert which automatically sends their location to all family members. Also, messages can be sent to all family members with a single click.
If you're wondering how all this works, each watch is equipped with a built-in SIM card that supports connectivity in over 120 countries, so you can track your child even when you travel overseas.
Available colors: blueberry, grape, lemon, strawberry
Age Range: 3+ years old
Tracks: GPS location
Notable features: 60 hour battery life, water resisted (splash proof), electronic paper display screen, complimentary hereO family app for iOS and Android
---
---
FiLIP 2 Smart Locator GPS and Phone Watch for Kids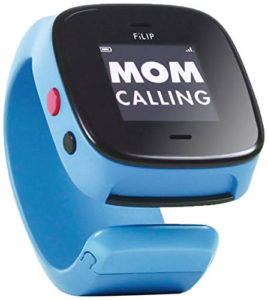 The FiLIP 2 has a lot of features parents look for in a GPS tracking watch for kids. Using GPS you can locate your children in real time–indoors or outdoors. The app allows you to designate SafeZones so you can receive notifications when your child gets to or leaves places like school. The big plus of the FiLIP GPS watch is the fact that it can make two way voice calls through a built in speakerphone to 5 preprogrammed phone numbers.
You are required to activate a special Smart Locator plan with AT&T in order for this watch to work, but the companion smartphone does not need to be on an AT&T plan. Note: this device will only work in the United States, so if you travel internationally you should get the hereO.
Available colors: superhero blue, watermelon red
Age Range: 4 – 11 years old
Tracks: GPS location
Notable features: date and time display, one-way text messaging (parent to child), 2 way phone calls to 5 predesignated numbers, GPS tracking via smartphone app
---
KidGPS Tracker and Kid Locator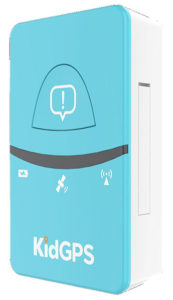 The KidGPS Tracker is not a watch, but is a GPS tracker that can be worn as a clip-on to track your child (and some people have used it to track dogs or seniors or cars). It has a smartphone companion app (for iPhone and Android) to help track and locate your child in real time.
The KidGPS features a panic alert button they can press to send their current location. Use the tracking app to check their location at any time. You can also customize zones and receive notifications of when the child comes and goes. This device does require a service plan with no contract.
Tracks: GPS location
Notable features: panic alert, on demand location, safe zones
---
PocketFinder GPS Child Tracker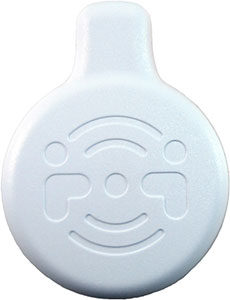 The Pocketfinder is a smaller and more discreet tracker clip than the KidGPS. It's small (about 2″) so it can easily be clipped inside a pocket or on a piece of clothing. Pocketfinder has a companion smartphone app and also a website where you can track your child at any time on Google Maps and receive alerts when they arrive and leave specific areas.
The PocketFinder does not have any communication ability or even a way for the child to send a panic alert, so keep that in mind. It isn't a kids GPS watch, but the tracking ability is very similar. This tracker does require a monthly service plan. Made in the USA.
Tracks: GPS location
Notable features: GPS location on Google Maps, real-time alerts for coming or going from set zones, rechargeable battery
---
---
These watches and clips are just for GPS tracking of a kid's location. If you want to track their steps, check out pedometers for kids or get them a fitness tracking smartwatch.
Related: action cameras for kids