Before fancy fitness trackers with GPS and heart rate monitors became all the rage, simpler slip on pedometers were the main way people tracked their daily step count. While you can drop hundreds of dollars on a fitness tracker with all the bells and whistles, basic pedometers and step counters are still available for a fraction of the price. There are a ton of these trackers available, so for this article, we're focusing on the five best pedometers available for tracking steps and activity.
Many people just want to make sure they're reaching their step goal each day as walking is their main form of exercise. They may not want to deal with the fancy features of more expensive fitness trackers. Some people do not own or do not want to have to sync a fitness band to a smartphone to see their steps. If you're looking for a simple pedometer that counts steps, is easy to use, and does not require syncing to another device, there are many options available. Here are the best pedometers available to help you keep track of your daily walking goals.
Best Pedometers and Step Counters
OZO Fitness SC 3D Digital Pedometer
Ozo makes a very affordable pedometer that features all the basics you need in a step counter without any extra fluff. The latest design is a modern update on their previous model. This tracker easily clips onto your clothes (recommended to be worn on your waistband) or can be worn on a lanyard and counts your steps all day. The 30 day memory log keeps all your data for a month so you can keep track of your progress. The built-in clock is convenient.
If you work out at the gym, this pedometer will be able to record steps from treadmills and elliptical machines, just like normal walking. This easy to use pedometer is perfect for seniors, kids, or adults who just want a no-frills step counter. This is one of the best pedometers available at an affordable price.
Available colors: blue, black, pink
Tracks: steps, miles, calories burned, exercise time
Notable features: Auto-shut off function to preserve battery life, 1 year battery life, low battery warning, 30 day memory log, wear as lanyard or clip
---
Omron Alvita Tri Axis Pedometer
This basic pedometer from Omron uses tri axis technology to give you an accurate step count from any position, whether you have it clipped to your belt, in your pocket, or held in your hand. It can also tell the difference between different types of steps, like a leisurely walk or a brisk jog, and tracks them accordingly to count how many calories are burned.
The Alvita comes in several different models, so if you want a wireless activity tracker, or one that tracks steps per minute you can upgrade to that model.
Available colors: black
Tracks: steps, aerobic steps, distance walked, calories burned
Notable features: stores 7 days of step data, resets count automatically at midnight, smart sensor technology for accurate step count
---
3DTriSport Walking Pedometer
If you're looking for 3D tri-axis sensor technology with a few more features, you may want to consider buying this step counter from 3DTriSport. Not only will this pedometer track your steps on your belt, in your pocket, or in your bag, you can also wear the included wristband while you walk or run.
This pedometer also tracks 30 days of step and calorie history–which is one of the longest we've seen for pedometers that don't need to sync to a smartphone. This helps keep you motivated and on track to reach your fitness goals. Also, this is a great pedometer for walking and running.
Available colors: pink/magenta, grey/black, white, black
Tracks: steps, walking distance (miles or kilometers), exercise time, calories burned
Notable features: 30 day step history memory, belt clip or wristband
---
Elegiant Wireless Pedometer Fitness Band
This is the fanciest activity monitor we're going to include on this list. It does much more than a basic pedometer, but it's affordable price point and easy to use features make it worth considering. Its wristband form is also great to consider for people who do not want a clippable pedometer.
Made from silicone, this fitness tracker has a USB connection to charge the battery and upload data to your computer. It tracks all the basics like steps and calories burned, but it has some other amazing features that usually only see in much pricier models. The OLED screen is tap enabled so you can swipe through your activity history, and also use it for text message and call notifications.
It also features sleep monitoring and a silent alarm that vibrates to wake you up. The newest version also features a heart rate monitor to give you more accurate stats. This band is also waterproof, which means you can shower and swim with it on. It's truly a 24/7 fitness tracker.
Available colors: black, blue, red
Tracks: steps, calories burned, sleep, heart rate
Notable features: USB charging, touch/tap screen, waterproof, move reminders, find your phone, camera remote control, SMS and call notifications, sleep tracking, vibrating alarm
---
Fitbit Zip
If you're looking for a pedometer that's a little flashier, has wireless capabilities allowing for more long-term tracking, but still has the basic functions of a pedometer, you should considered the Fitbit Zip.
The LCD display conveniently shows the current day's step count and also the time. When you reach your step goal for the day it buzzes in congratulation. Sync it with the free Fitbit app and track your daily stats to improve your activity over time.
This makes a great gift for older parents who aren't very tech-savvy but are looking for an easy way to track their activity and steps over time. Since it has the option to sync to a computer, it's also great for people who don't use smartphones.
You can wear it clipped to any piece of clothing: your belt or waistband, bra strap, or inside your pocket.
Available colors: blue, charcoal, lime, magenta
Tracks: steps, distance, calories burned, active minutes
Notable features: syncs wirelessly to computers or smartphones and tablets with Bluetooth, clips to clothing, displays daily step count on device, battery lasts 6 months, water resistant
---
FAQs about Pedometers and Step Counters
How much is a pedometer?
Prices vary based on features, but the most basic models are quite affordable. If you're looking at basic step counters that clip-on, usually you can find something priced between $10 – $25. The more features the pedometer has, the higher the price will be. If you are interested in pedometers with heart rate monitors
Where can I buy a pedometer to count my steps?
You can find some models at local sports and outdoors stores or general stores like Wal-Mart or Target. You will find the best selection online. Amazon has one of the biggest selections of simple pedometers and step counters. Shopping on Amazon also gives you a chance to read reviews and find the best step counter available. They also have a good return policy if you have an issue or decide a pedometer is not right for you.
How does a pedometer help people reach their fitness goals?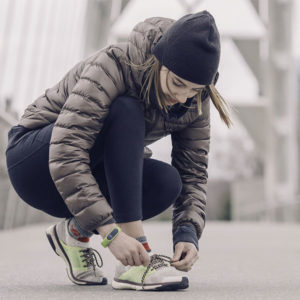 Many people have trouble fitting regular exercise into their days. With a lot of the population working office jobs that require sitting at a desk all day, people are more sedentary than ever. Pedometers and fitness trackers help you track how active you are each day through the number of steps you take. Once you're aware of your general activity level it's easy to set achievable goals to improve your daily step count over time.
Many people find pedometers and fitness trackers help them "gamify" their activity and fitness goals. By seeing in real time how close or far they are from reaching their goal, it may motivate them to take a walk in the park or take the stairs instead of the elevator. These subtle changes and choices help add extra steps and create real lifestyle changes that lead to a healthier life.
Another stumbling block for many people trying to achieve new fitness goals is being consistent with the habit. A tracker helps them set goals and track them. If they choose to be lazy on the couch one day it will show in their numbers and help motivate them to do better the next day.
This fitness tracking can also help create competition among friends or family members. Comparing stats and setting group goals is a fantastic way to be active and meet fitness or weight loss goals.
How many pedometer steps are in a mile?
While it seems like there should be a simple answer to this question, the truth is that it varies. A person's stride length will affect how many steps it takes for them to reach a mile. On average, most people have a stride length of 2.1 to 2.5 feet. That means it takes over 2,000 steps to reach a mile. The daily goal of 10,000 steps is equivalent to five miles.
The way your pedometer measures the steps will also vary based on the brand and model you use, and also whether you're wearing a clip on at your waist or a wristband. To figure out how many steps your pedometer registers per mile, start with your pedometer at zero and walk normally for the distance of one mile. When you finish, check the count on your pedometer. You may want to do this several times to get a more accurate number.
If tracking exact miles is important to you, purchase a pedometer like the Ozo Fitness Pedometer which tracks both steps and miles.
What are the best pedometers for kids?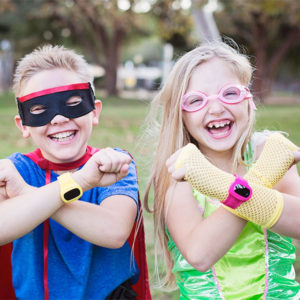 If your child is older, any basic pedometer will work well to help them track their steps and be more active. Some kids, especially pre-school and elementary aged children, may not be particularly motivated by a boring step counter. There are some activity trackers and pedometers designs specifically for kids. They feature fun games and animations to engage kids and rewards systems they appreciate. They're particularly good for motivating kids who like to stay inside all day playing videos games rather than exercise.
If you just want cheap pedometers for kids, any of the models reviewed on this page are a great choice.
---
Still searching for the perfect pedometer or activity tracker? Check out the best cheap fitness trackers and the best fitness trackers under $100 for more affordable options.